Our great lineup of speakers: Listen, Learn, Network & Grow!
Our speakers are industry leaders, market innovators and those passionate about creating success. We choose the best people from within and outside the ag industry to share their wisdom and knowledge with you.
Imagine the goals you could achieve with a little inspiration, and new and insightful skills from women who've "been there, done that" and are willing to share what they've learned along the way.
Meet the AWC WEST 2020 presenters that we have lined up to date!
Cindy Benning
Group Director, Industrial & Quality Operations, Vetoquinol S.A., Frankford,  Ontario
Presentation Title • My career path: A Journey of Self-Discovery
Presentation overview: Cindy will discuss how she went from being an introverted science nerd, only focussing on what is black and white, to a person who believes strongly in transformational leadership and the importance of self-discovery.  This change may seem like an obvious progression of a normal career path but Cindy's story is much more complex.
Profile:
Cindy Benning grew up in rural Ontario with her parents and 3 sisters, and has always had a natural aptitude for math and science.  She started her career in 1984 working as a lab technician in a small human pharma company and since 1993 has progressively increased her level of responsibility in various roles within the Animal Health Industry. In 2018 she became the first North American, female member of the French Animal Health Company, Vetoquinol's Executive team, with her appointment as Group Director of global manufacturing and quality operations.  Through dedication to lifelong learning, Cindy has been able to obtain a Bachelor's degree in Science, an Executive MBA, as well as post-grad certification in Executive Coaching, all while being employed full-time.   The progression of her career from one based on hard skills to one that relies strongly on soft skills, is an example of her lifelong vision – to be a positive influence on as many people as possible.  Cindy believes strongly in the power of self reflection, and her mission is to be a living example of what being true to your authentic self means, always striving to align her actions with her values.  She plans to develop her personal company, Dragonfly Insights in the coming years, as a transition from the busy transcontinental global role she has now, to one where she can devote her time fully, to the development of others.
Lorna Callbeck Cross & Cassie Josephson
Lorna Callbeck Cross, President & Principal Facilitator, People Things Consulting, Saskatoon, Saskatchewan
Cassie Josephson, Director & Facilitator, People Things Consulting, Saskatoon, Saskatchewan
Workshop Presentation Title • Stress & Self-Care in Agriculture: Supporting You and Those You Care For
Workshop Presentation Overview: You're stressed; the uncontrollable variables are overwhelming. Learn about the different types of stress and how it can show up in you and others around you. Share ideas on mental wellness and psychological health and safety with respect to yourself, the farm and the agriculture sector. Begin to develop a self-care plan and skills to assist with Psychological First Aid. Let's work together to build resilience in yourself and the industry.
Profile • Lorna Callbeck Cross:
Lorna Callbeck Cross is a graduate of the Master of Arts in Global Leadership, from Royal Roads University in Victoria. Lorna is President and Founder of People Things Consulting, with 35 years proven expertise, as an employee and consultant, supporting corporations, not-for-profit organizations, educational institutions, and individuals. Lorna is very proud of her rural roots, growing up on a mix cattle grain operation in northwest Saskatchewan. Lorna is committed to increasing mental health education and finding ways to encourage these much needed conversations.
Profile • Cassie Josephson:
Cassie Josephson is a recent graduate from the University of Saskatchewan, with a Bachelor of Science degree in AgriBusiness. After successful sales roles in the agriculture industry, she joined People Things Consulting as Director and Facilitator. Cassie is passionate about breaking barriers and stigmas around mental health, to help create safe, inclusive communities. Throughout her own educational and personal journey, Cassie has seen first-hand the effects of lack of education and stigma surrounding mental health. People Things Consulting is a social purpose organization focused on strengthening psychological health and wellness, and culturally competent practices, leading to increased diversity and inclusion for all.
Colleen Carey
Financial Advisor, The Co-operators, Cary Insurance Agency Inc., Vulcan,  Alberta
Sponsor Panel Speaker
Profile:
I grew up on a grain farm in Vulcan County where I graduated from County Central High School. I pursued my post-secondary schooling and graduated with a Bachelor Degree in Physical Education from the University of Alberta. I worked for 20 years in Sports Administration and Special Event Planning, with my career's highlight of working at two Olympic Games, in Sydney, Australia and Vancouver, BC. I also traveled for 2 years, spending time in India, Australia and England. While backpacking in Australia, I met my husband who was a fellow backpacker from England at an apple orchard, where we spent several months working, learning about & eating A LOT of apples! My husband & I moved back to my home town in 2008 in order to be closer to family as well as raise our 2 daughters in a rural setting in Southern Alberta (where the winters were a tad bit better than Central Alberta). In 2012, I was offered an opportunity to work with The Cooperators in the Vulcan office and was able to become a full financial advisor in 2016, and now the proud owner of Carey Insurance Agency Inc., where I get to work in the agriculture sector with many of my clients as well as run a socially responsible business and be engrossed in the lives of my community and family!
Michelle Cederberg
Speaker, Coach, Consultant, Live out Loud, Inc., Calgary, Alberta
Presentation Title • Energized for Excellence: Tips to Own Your Awesome and Take it to the Next Level
Presentation overview: Change Agent Michelle Cederberg has literally written  the book on living an energetic and fulfilling life. Over the past 20 years she has built her career as a speaker, life coach and consultant shaking up how people approach their work and life.
She believes that when you're Energized for Excellence you show up as a leader and strive for success in all you do. You take on bigger challenges, and better manage stress. You find ways to take care of your energy – mind, body and spirit – no matter what is coming at you. And life is just more fun.
What's possible from there?
In this energizing keynote, ideas and laughs converge, and you will:
Explore what excellence means to you in your career and life, (and learn why bragging may not be so bad).
Look at new research in Positive Psychology that will give you a fascinating perspective on the power of love, gratitude and joy as emotions that prime your neural pathways for success.
Learn seven simple strategies that can help you own your awesome and take it to the next level.
Prepare to think, laugh and get energized for excellence. This keynote lights the way.
Profile:
For over 15 years, Certified Speaking Professional Michelle Cederberg has been captivating audiences across North America with her empowering and humorous messages that educate busy, driven professionals about purpose, productivity and the pursuit of better
An in-demand speaker, author, coach and consultant, she believes that personal and professional success is directly influenced by how well we harness the physical, mental and emotional capacity we each have within us. She helps people boost that capacity, so they gain clarity, build confidence, and get the discipline to create the life and career they want.
She holds a Masters in Kinesiology, a BA in Psychology, a specialization in Health and Exercise Psychology, is a Certified Exercise Physiologist, a Certified Professional Co-Active Life Coach, and an ORSC-Trained Team Coach. She truly combines mind, body and practicality to empower change.
Michelle is the author of three books. Her newest book It's How We Work, will be released fall 2020.
Cherie Copithorne-Barnes
CEO

,

CL Ranches Ltd.

, Calgary, Alberta
Presentation Title •
How to Be Incorrect in a Politically Correct World
Presentation overview: All too often, we as producers are made to feel that we are the bad guys in this world of political correctness.  History has shown me that we can stand up for what what we do and what we believe in as long as it goes with a little courage.
Profile:
Cherie is a 4th generation rancher and CEO of CL Ranches Ltd. located in Jumping Pound, just west of Calgary, AB.  CL Ranches Ltd. is a cow/calf and backgrounding operation which also grows its own feed supply. Cherie is the past chair of the Canadian Roundtable for Sustainable Beef. Cherie sits on the advisory boards of the Rangeland Research Institute for the University of Alberta, the Strategic Engagement Group for Olds College as well as the WA Ranch Advisory for the University of Calgary. She is also Director on the Board of the Calgary Stampede where the Agri-Food Committee is just one of many groups she is involved with.  Cherie and her husband Tim spent 7 years ranching in Uruguay where they were involved in a full beef value chain from the ranch, to one of the first feedlots, and finally to the packing plant where meat was then sold into the EU and North America.
Kelly Dobson
Chief leadership Officer, LeaderShift Inc., Farifax, Manitoba
Workshop Presentation Title • Achieve more of what matters through leader effectiveness
Workshop Presentation Overview: Developing high leader effectiveness allows us to achieve more of what matters most, professionally and personally. Kelly Dobson of LeaderShift will highlight what the research says about leader effectiveness and its impact on business results. Through an interactive session, participants will experience how self-awareness is developed and empowers leaders to accurately and authentically communicate, improving relationships and business performance.
Profile:
Kelly Dobson is a fourth-generation farmer from Manitoba who has turned a lifelong passion for leadership into LeaderShift Inc., a leader development firm with an agriculture focus. LeaderShift is powering Farm Management Canada's new National Farm Leadership Program. LeaderShift offers coaching as well as a highly-reviewed executive development program capable of serving a dispersed rural clientele in a variety of cohort configurations and work stage contexts. Kelly has served agriculture in a variety of roles both provincially and federally for over a decade. Kelly has an MAL and a CEC designation from Royal Roads University and is a contributor to Country Guide Magazine.
President, GORP Energy Bars and Mixes, Niverville Manitoba
Plenary Speaker
Presentation Title • Playing David in a Goliath Market: Why women may hold the key to substantially reducing global hunger
Presentation Overview: Colleen Dyck, a farmer and entrepreneur from Niverville Manitoba travelled to Kenya work alongside small-scale farmer Lucy Anyango. Her presentation explores how what she learned changed her view of agriculture and uncovered a powerful truth about women's role in reducing world hunger.
Profile:
Playing David in a Goliath Market – How to Hang on to Hope in the Midst of Life's Battles! Creator of the GORP Bar and the award winning Protein Bar Ready Mix DIY product line, Colleen creatively plays the role of "David" in a "Goliath" market! Her bars and mixes are now available from coast to coast in over 1000 stores! Between running their 15000 acre grain farm, raising four children and launching The GORP bar the Dycks have their hands full.  Colleen has become an expert in juggling, running, slipping and yes,  failing with a perseverance that won't be squelched. Sharing her struggles, and mistakes as mother, wife, and entrepreneur, Colleen delivers an unapologetic peek at her story with the hope of encouraging others to get outside, thrive and embrace the adventure!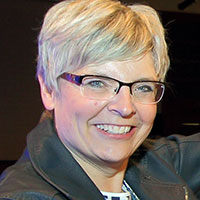 Dianne Finstad
Communications Specialist, Red Deer, Alberta
Master of Ceremonies
Profile:
Dianne Finstad is a communications specialist with a passion for all things agriculture. She spent over thirty years as a broadcaster and reporter, specializing in agriculture and rodeo coverage. Raised on a ranch in southern Alberta, she was able to combine her 4-H inspired interests in communication and ag into an interesting career, which now takes her to exciting places like Advancing Women in Agriculture conferences. Based in Red Deer, she began her career at CKRD-TV and radio. Her program 'This Business of Farming' was a staple in many rural households around the province. She also worked at KG Country Radio, providing daily farm reports and regular rodeo coverage. As well, Dianne has MC'd at events ranging from Farm Credit Canada Forums to national dairy shows. She works as both a show announcer and rodeo reporter at the Calgary Stampede. Her work has received numerous awards, and she is an honorary member of the Alberta Institute of Agrologists and the Alberta Human Ecology and Home Economics Association. Dianne is currently doing agriculture, rodeo, writing and speaking work across the country.
Sarah Foster
President, Senior Seed Analyst, 20.20 Seed Lab Inc., Nisku, Alberta
Presentation Title • Never in my wildest dreams did I ever expect this!
Presentation Overview: My journey and experiences as a seed analyst over the past 40 years. Navigating through changes and overcoming challenges as a woman in business.
Profile:
Sarah has been involved in the seed industry and agriculture since the late 1970's. She studied at the National Institute of Agricultural Botany in Cambridge, England focusing on seed testing and agricultural botany.  Her work experience includes seven years with Sharps Seed International in the United Kingdom, later to become owned by Advanta, Canada. Then later immigrating to Canada in 1984 she was employed for five years with The United Grain Growers in Edmonton Alberta.
Sarah started 20/20 Seed Labs Inc. in 1989 as the first fully independent and completely accredited seed testing laboratory in Canada.  In 2007, 20/20 Seed labs Inc. was initiated and registered as  the first private laboratory in Canada to become a recognised IISTA accredited laboratory.
20/20 Seed Labs Inc has grown over the years to provide testing services in Nisku Alberta, St Norbert Manitoba and Chillan Chile. 20/20 Seed Labs Inc. offers a wide variety of services including seed quality, seed health and plant diagnostics and analysis on a wide range of crop kinds. 20/20 Seed Labs Inc. also offers molecular testing, seed grading, sampling services and crop inspection services in Canada and in Chile.
20/20 Seed Labs Inc. recently celebrated 30 years in the industry and is proud to be included as an award winner in the Business Edmonton and Business Calgary magazine. Sarah was also chosen as an award business leader in the both magazines for agriculture.
We are honoured to be service providers for individual growers, seed cleaning facilities, crop protection companies and multinational seed companies.
Sarah works extensively with government, farmers and industry within agriculture and is one of the most experienced seed analysts in North America, having completed accreditation for the United Kingdom, United States and Canada. She is regularly invited to train and teach as well as offering grading courses to the Authorized establishment personnel; recently Sarah was invited and is now an advisor on the Board of Directors of the Alberta Seed Growers association.
Sarah was the recipient of the Canadian Seed Trade Association 2013 Seed Achievement award and has held various executive positions with the Commercial Seed Analysts Association of Canada, including National President. Sarah is also involved with various committees currently working on the Canadian Methods and Procedures with the (CFIA) Canadian Food Inspection Agency.
Sarah is now an international auditor allowing her to work more closely with international government laboratories and regulatory agencies. Sarah also received and outstanding service  award in 2018 from the Alberta Seed Plant association for her dedication to their industry.
Jessica Gerrits
Vice President, Commercial Financial Services, Royal Bank of Canada, Regina, Saskatchewan
Workshop Presentation Title • 
Farmer 4.0: Investing in the Skills to Transform Canadian Agriculture
Workshop Presentation Overview: Most said "it will never work!" when the first tractor rolled off the production line to take over as the primary workhorse on the farm.  How far we've come since then!  Today, we face another revolution in Agriculture, with robotics and autonomy taking the drivers seat.  In this workshop, we will explore the skills needed to navigate through the fourth revolution of Agriculture and learn to get comfortable in the uncomfortable position change can bring with it.
Profile:
Jessica Gerrits is the Vice President of Commercial Financial Services for RBC Royal Bank of Canada. She is responsible for the leadership of a team of Agricultural and Commercial Specialists located throughout Central and Southern Saskatchewan. Jessica has 16 years experience in the financial industry, holding various roles throughout her career, primarily aligned within Agriculture, Supply Chain, Health Care & Diversified Commercial Business. Her career has spanned the country, with roles located throughout BC, Alberta and Ontario – she relocated for her current role in Saskatchewan December 2017. Immediately prior to her current position, Jessica was responsible for the adjudication of larger, more complex credit structures housed under RBC's National Diversified Credit team, based in Toronto. In her years with RBC, Jessica has distinguished herself as a trusted advisor, forward thinker, coach and mentor. Jessica is considered a change champion within Agriculture and Agri-business and is a strong advocate for innovation and adaptation of the financial solutions available to the industry.
Joan Hardy, Vice-President, Sales and Marketing, Grain and Fertilizer, Canadian Pacific Railway, Winnipeg, Manitoba
Sponsor Panel Speaker
Profile:
Joan is responsible for the commercial customer relationships and product marketing related to CP's bulk business, including grain, fertilizers, potash and coal. Joan joined CP in 2018 after 12 years at Richardson International, Canada's largest agri-business and a global leader in agriculture and food processing, where she served as Vice-President, Transportation. Prior to joining Richardson International, Joan spent 21 years at Canadian National, where she held various roles, including Operations Superintendent, Assistant Vice-President, Sales and Senior Director in CN's customer service centre.
Joan holds a Bachelor of Science in Mechanical Engineering from the University of Manitoba. She is located in Winnipeg, the home of key grain shippers, where she is well positioned to further CP's goal of sustainable, profitable growth.
Joan chairs the Board of Trustees for United Way Winnipeg.  She is also a volunteer and past board member with the Manitoba Chamber Orchestra.
Hilton Ventures, Strathmore, Alberta
Outstanding Entrepreneur Panel Speaker
Presentation Title • A Farm Team on a Mission
Presentation Overview: Growing a multi-family farm operation with a passion and a purpose. And practising the skills of fine communication.
Profile:
Lynne, a free-range farm kid fresh out of Olds College married Spencer and began farming with Spencer's parents in 1979, east of Strathmore. Our start-up days began with a love for the soil and a real desire to improve soil health and conserve soil moisture. And so the challenges began by modifying equipment and changing traditional farming practices. Lynne, passionate about the farm, was busy raising 4 farm kids and being part of a great community. Hilton Ventures wants "every acre to work" and to leave the land in better condition for the next generation. Hilton Ventures is now a multi-generational family farming operation. Come out for a visit, our gate is always open.
Chief People Officer, Agriculture Financial Services Corporation, Lacombe, Alberta
Sponsor Panel Speaker
Panel Discussion • Share one practical tip or regular practice you do that helps you cope/grow/be more effective in your role. Why has it worked?
Profile:
Karla Kochan leads a dynamic team at Agriculture Financial Services Corporation (AFSC) that is responsible for a values-based culture within People Services. She oversees the 'people function', taking care of the hearts and souls of the corporation. This includes all things people and culture such as talent acquisition and development, employee engagement, compensation, health and safety and change management. Additionally, Corporate Brand and Communications reports through to Karla, which is focused on AFSC's brand, internally and externally. Continuous improvement also falls under her portfolio which was a newly created department last fall that has its methodology built around LEAN principles.
Focusing on the employee experience has allowed AFSC to intertwine the organization's values within the company culture. AFSC's people and culture are key factors in recruiting and retaining talent as well as making the organization a great place to work, as showcased by Top Employer accolades: AFSC has been a Top 100 Employer in Canada for 11 years and has been continuously named a Top 75 Employer in Alberta for over a decade.
Karla has been in the Human Resources field for close to 20 years and has worked in both the public and private sector as well as the non-profit industry. She holds an MBA in Executive Leadership as well as Strategic HR from Cornell University and the University of Alberta. She also holds a diploma from Mount Royal University in Broadcast Journalism. Karla holds certifications in Predictive Index®, Personality Dimensions® and Emotional Quotient Inventory.
Director and Lead – Alberta Agricultural Banking, Scotiabank, Calgary, Alberta
Sponsor Panel Speaker
Panel Discussion • What do you see as some of the challenges ahead in the next 5 years in agriculture? How are you preparing for the challenges?
Profile:
Roxane Lieverse, a farm kid from Beaverlodge, Alberta. She completed her undergraduate degree from McMaster University in Hamilton and her masters from Dalhousie University in Halifax. Today she is the Director and Lead of Alberta Agricultural Banking at the Scotiabank. Her career has been spent in the financial industry, including roles within capital markets, wealth management, private banking and retail management. In addition to a successful career working with a team of passionate agricultural bankers, Roxane is a wife and mother of a set of 3.5 year old twins. Outside of work Roxane enjoys cycling and being active. However, her greatest pleasure is to be back on the farm with her large extended family.
Director, Marketing & Pricing – Grain & Fertilizer, Canadian Pacific, Calgary, Alberta
Sponsor Speaker
Profile:
Kira has been a marketing director within CP's grain and fertilizer portfolio since 2015. Kira's responsibilities include market strategy development, products and services development, revenue forecasting and budgets, industrial development projects as well as management of rates and pricing in both Canada and the U.S.
Kira joined CP in 2002 as part of the Customer Service team and has since held various positions within Marketing & Sales, Yard Operations, and Finance. Prior to the start of her railroad career, Kira obtained a Master of Arts of Slavic Languages and Literatures from the University of Toronto and has bachelor degrees in both Mathematics and French from Memorial University.
Kira is based at CP's head office in Calgary where she resides with her husband and two daughters.
Vice President Public & Government Affairs, Canadian National (CN), Montreal, Quebec
Plenary Speaker
Presentation Title • Taking your place at the table: A journey of self confidence
Presentation Overview: In the past, too many times women either held themselves back or counted themselves out. This generation of women leaders is changing that and ''taking their place at the table''. I will share some of my own personal history, but more importantly hope to encourage younger women to keep up their efforts.
Profile:
Fiona Murray was appointed Vice-President, Public and Government Affairs in October 2018, based in Montreal. In this role, she leads lead the Company's stakeholder engagement initiatives through her North American responsibility for CN's relationships with governments at all levels, as well as media relations, sponsorships and donations, community relations and corporate communications.
Prior to that, she had been Vice-President, Industrial Products since March 2016.
Ms. Murray joined CN in 1992, initially working in Public Affairs before moving to positions of increasing responsibility within Supply Management and Sales and Marketing, including Account Manager (Metals and Minerals), Director of Sales (M&M and Petroleum & Chemicals), Assistant Vice-President Sales (P&C), AV-P Sales and Marketing (P&C), and AV-P Sales and Marketing (Industrial Products), before being named Vice-President, Corporate Marketing in May 2012.
Ms. Murray holds a Bachelor of Arts degree and Master of Library and Information Science degree from McGill University, in Montreal.
She is a member of the Board of the Canadian Chamber of Commerce and a member of the Board of Montreal's Ecomuseum.
Meghan Pedros
Relationship Manager, Talent Acquisition Business Banking Programs, TD Bank Group, Toronto, Ontario
Workshop Presenter
Presentation Title • Build Your Brand, Achieve Success!
Workshop Overview: This interactive workshop will take you through a step-by-step process on how to effectively build and leverage your personal brand to achieve success! Whether you are a strong negotiator or looking to build confidence, this workshop will add tips and tricks to your personal development checklist.
Profile:
Meghan Pedros is a career-oriented wife, mother, marathoner, mentor and brand ambassador with a passion for developing others through inspiration, mentorship and integrity. Over her 15 year career with TD, she has held a series of progressive roles in Wealth Management, Retail, Direct Channels and Human Resources, to name a few. In her most recent role, Meghan led the Canadian Banking Management Associate & Graduate Leadership Programs; which focus on developing general management and leadership capabilities across the organization. In her current role as Manager; Talent Acquisition, Meghan leads the diversity sourcing and recruitment strategy for our Business Banking Associate Programs across Canada. With a passion for personal development and growth, Meghan plays an active role in supporting Women in Leadership and Diversity initiatives both internally and externally; advocating TD as a career choice for new grads and a "Place to Be You".
Advocate for Global Agriculture, Kyle, Saskatchewan
Plenary Speaker
Presentation Title • Sharing your story and building your community
Presentation Overview: I want to empower women to find their 'why's' and taking on the roles in their operations and in agriculture. I want to empower them to be passionate about what they do. I will provide some basics on sharing their stories and building their communities.
Profile:
Megz grew up in Calgary, AB and had a ten year career in the Canadian Film Industry before meeting her husband and moving to a 4th generation grain farm in SW Saskatchewan, Canada. Transitioning from the city to the farm came with many misconceptions about the tools farmers use to grow their crops. During the process of learning and understanding the science behind the tools, Megz realized she needed to start sharing her family's farm story, and connecting with the person she was before she came to the grain farm. Megz is now an advocate for agriculture and good policy, speaking on topics like public trust, mental health in agriculture, technology and the importance of policy engagement. She has testified to the agriculture standing committee twice in the past two years, most recently on the impacts of China trade issues. Megz represents Canadian farmers on the Global stage, and in January participated in the Global Farmer Network Round Table in Mexico with farmers from across the world. When Megz is not running or fixing equipment you can find her writing Op Ed's for Canadian Newspapers, organizing global farmer advocacy conferences, collaborating with Canadian and international producers or even running for Federal Office.
Co-founder & Chief Nutrition Officer, Raised Right Pets and Ruud Ranching, Vermillion, Alberta
Outstanding Entrepreneur Panel Speaker
Presentation Title • Making A Difference: Raised Right Pets
Presentation Overview: Our journey with Raised Right Pets from concept to market has focused on integrity to always put the pet's quality of life first.  Establishing key building blocks for our businesses:  people, product, processes.
Profile:
Mary Ann and her husband Larry come from a long lineage of farmers and ranchers. She is very proud to be part of this great industry while living on their farm and ranch in east central Alberta. She grew up on a ranch being the youngest in the family with 4 older brothers. Mary Ann worked in the healthcare field for many years and started a consulting business in quality assurance. She has been a fitness instructor and has had a lifelong interest in nutrition. Her passion for both nutrition and animals were the inspiration for Raised Right Pets, a business her and Larry are in partnership with their oldest son Braeden. Their youngest son, Austin is also in partnership with them in their cattle ranches. Austin's concept for a biodegradeable and edible net wrap for bales is currently midstream in Research and Development with the University of Alberta. Mary Ann has been a long-time volunteer in the community, healthcare committees, school projects, and sports associations while her children were growing up. She splits her time between their various businesses and being a caregiver to her 92 year old father.  Mary Ann always enjoys the challenges and opportunities of stepping into the unknown; be it in business of other facets of her life. She places a high value on relationships and strives to improve quality of life for people and animals. Her day is not complete until she has learned something new and tried to make a difference.
Dana Sachvie
Senior Administrative Assistant, Government Relations, Cargill, Winnipeg, Manitoba
Sponsor Panel Speaker
Profile:
Dana Sachvie is based out of Cargill's Canadian head office Winnipeg and has been with Cargill since 2007.  Dana started in the Law Department and now works with the Government Relations team.
In addition to her normal course of work, Dana is the Chair of Cargill's Agricultural Supply Chain North America Women's Resource Group whose membership spans across Canada, Mexico and the United States.  With a mission of offering a network of relationships that foster growth, development, connectivity and support for women to rise to their full potential it is a perfect fit for Dana's passions – being provided the opportunity to work, meet and network with employees from all over Cargill and the industries they support.
Dana graduated from Red River Community College, Legal Assistant program in 1993, and with a keen interest in continued learning, pursued and completed the HR Management Program through the University of Manitoba in 2017.  Outside of work, Dana enjoys spending time with her husband Darren and their two children at their family cottage in Lake of the Woods, Ontario.
Gail Schafer
Regional Sales Manager, Global Ag Risk Solutions, Olds, Alberta
Workshop Presentation Title • Your Safety Net in Risky Times: Navigating Changing Ag Landscape with Confidence
Workshop Presentation Overview: The ag space is continuously exposed to risks like weather and markets. The last few years have presented farmers with additional challenges including: difficult weather patterns, trade disruptions reducing commodity prices, delivery issues with rail strikes, increasing fixed costs and tightening bank policy on lending: The fallout for producers is lower margins, higher costs and financial stress. Let's talk about what options are out there and how we can evaluate what risk management strategies work for individual producers.
Profile:
Gail and her family farm East of Olds, AB.  She grew up in South Africa and worked in agriculture and government there. After immigrating to Canada in 2000 she has worked in leadership roles in the financial and employer services industries.  Gail represented AFSC in Central Alberta as a Relationship Manager; and recently joined Global Ag Risk Solutions in October 2016 as the Alberta Regional Sales Manager. Global Ag Risk Solutions is a progresive, client focused, innovative and rapidly expanding private Revenue Insurance Company.
Jane Schuette
Motivational Speaker, Executive Coach, and Self-Improvement Author", Jane Schuette and Associates, Inc., Watertown, Minnesota
Presentation Title • Building A Bridge Over Troubled Waters – Understanding and Managing Workplace Stress
Presentation overview: The demands of our daily environment, the people we interact with and the projects we manage, often produce stress. That stress gets in the way of collaboration and innovation which most often determines success of goal completion. This session will help us better understand the impact of stress and recognize what happens when we get emotionally triggered. We will explore how negative triggers are usually provoked by unmet human basic needs and establish a plan to deal with and minimize the derailing that can get us off our productivity track. We will pinpoint suggestions on how to create an environment that meets those needs and minimizes stress and negative trigger reactions. These techniques set the stage for an environment that corrals everyone's brain power for productive collaboration and innovation to achieve our goals!
Profile:
Jane Schuette is a self-improvement author, executive coach, team facilitator, and motivational speaker. She holds a Master of Arts Degree in Education and has been awarded the honor of DTM – Distinguished Toastmaster. Her trademark is to break down complex information and models into practical application for fast, yet lasting results. Throughout a lifetime of research, she has collected the most effective practices and chosen tools designed to educate, energize, and inspire you to manage stress and improve relationships at work and home. Her audience is diverse – from U.S. Armed Forces to women inmates to global corporation employees to educators. Jane's message is easy to digest and implement, helping to build brilliance in any life!
Jane's book, Building Your Brilliance – Moving from Stressful Survival to Joyful Living, features a toolkit to help you increase self-awareness, claim your strengths, communicate to build trust, and uncover your brilliance! Building Your Brilliance is written for the everyday busy and stressed person who is having trouble finding time to do it all – much less take care of his/her well-being. Building Your Brilliance – organizes tools of self-care into typical rooms found in a house, outlines a personal evaluation method to quickly assess your over-all health – spiritual, mental, physical, relational, recommends exercises that will get you moving forward and feeling rejuvenated and healthy, and empowers you to live a life of love, happiness, and peace.
Jane Schuette lives in rural Minnesota with her husband and is delighted to have her children and grandchildren nearby for plenty of play time in the exhilarating Minnesota seasons. Her favorite stress-buster is water! Whether it is synchronized swimming, water-skiing, swimming laps or playing in the frozen water – AKA snow – Jane is at home. After almost 40 years of marriage and waterskiing on their wedding day, Jane and her husband still enjoy nothing better than a "pull" on one of Minnesota's 10,000 lakes.
Lauren Sergy
Communication and Public Speaking Expert, Up Front Communication, Edmonton, Alberta
Presentation Title •
Secrets of Persuasion
Presentation overview: Persuasiveness carries a lot of baggage: we all want to be able to persuade others, but many of us find it hard to pin down what persuasiveness actuall is, while others are worried that they'll need to use tactics that feel slimy or aggressive. Get ready to bust through those myths and dial up your own persuasiveness by discovering the secrets and strategies for influencing and changing minds through connection, collaboration and authentic relationships.
Profile:

Public speaking and communication expert Lauren Sergy has helped thousands of people become more effective leaders by developing critical communication skills such as persuasion, presentation, and executive presence. Known for her highly practical and inter-disciplinary approach, Lauren tackles tough speaking and communication issues with refreshing humor and candor. She has worked with a variety of clients and audiences in Canada, the US, and Europe including KPMG, T-Mobile, Grant Thornton, the Government of Alberta, the University of Alberta, Dairy Farmers of Canada, and many more.
Lauren is a proud member of the Canadian Association of Professional Speakers. She holds a Master's degree in Library and Information Studies and a Bachelor of Arts degree in English and Classics, and teaches business communication at Concordia University of Edmonton and the University of Alberta.
Her book, The Handy Communication Answer Book, was featured on Library Journal's Best Reference Books of 2017 list.
Nicole Stelter
Vice President Agriculture Service, TD Bank, Leduc, Alberta
Sponsor Panel Speaker and Banquet Speaker
Profile:
Nicole Stelter was raised on a mixed grain and cattle farm in Nisku, AB and today, along with her husband, they operate a 1,500 acre grain farm in Edmonton, AB. Nicole wanted to combine her passion for Agriculture with her interest of finance. Upon graduating from Olds College, she was hired by TD Bank and over the last 23 years has been able to grow her career within the Bank in the areas of Small Business, Commercial and Agriculture Lending. Now, as Vice President of TD Agriculture for Alberta, she is leading  a group of Ag Specialists, who share her same passion and commitment to Agriculture along with the growth and sustainability of the industry.
Devin St. Louis
Vice President and Portfolio Manager, RBC Dominion Securities, Calgary, Alberta
Workshop Presentation Title • When is it time to start focusing on your financial future?
Workshop Presentation Overview: The investment world can be confusing at the best of times. This presentation will speak to the unique financial priorities of women and their thoughtfulness around money. We will spend time learning about investment fundamentals and how women play a critical role in managing their own finances, their family finances and transferring wealth to the next generation. Finally, we will conclude with best practices that you can use to equip yourself to help navigate the current and future investment landscape.
Profile:
Devin began his career with RBC Royal Bank in Kelowna, British Columbia, in 2003. He advanced his career east to Calgary and joined RBC Dominion Securities in 2007. Today, he is a Vice President and Portfolio Manager with a focus on Wealth Management and Financial Planning. A firm believer in continuing education, Devin earned his Bachelor of Business Administration degree in finance in 2004. He went on to achieve his Certified Financial Planner (CFP) designation in 2006 and his Canadian Investment Manager (CIM) and Financial Management Advisor (FMA) designations. In 2011, Devin achieved the recognition of Fellow of the Canadian Securities Institute (FCSI). Over his career, Devin has felt truly honored to have worked alongside some of the best wealth management professionals in Canada. His tenure within RBC has resulted in the establishment of a strong network of experienced professionals within the organization and the community. When he is not working, Devin is pursuing his desire to travel the world and further his knowledge and appreciation for wine and the culinary arts.
Alison Sunstrum
Founder/CEO, CNSRV-X Inc. (Conserve X), Cochrane, Alberta
Presentation Title • Living the Dream
Presentation Overview: After raising a family and simultaneously bootstrapping and divesting a global agriculture business, I am now deeply intrigued by applying nascent blockchain technology in agriculture.  I'll discuss how "living the dream" is now all about giving back, and paying it forward through scholarships, angel investment and mentorship.
Profile:
Alison Sunstrum is Founder/CEO of CNSRV-X (Conserve X) a Canadian company researching and applying blockchain technology in agriculture.
Formerly alongside fellow CEO/Founder of GrowSafe Systems Ltd. Camiel Huisma they developed an advanced data analytics machine learning platform that acquired data from individual animals and their environment. They grew their tech skunkworks from an Alberta garage to global operations; leading a team of engineers, computer and animal specialists that received International recognition for science-based innovation. Prior to this she led the development of one of Canada's first electronic data interchange projects with a Canadian railroad. A recipient of the Beef Improvement Federation's distinguished service award Alison is a former member of Canada's National Agri-Food Economic Strategy Table.
A passionate advocate for advancing women in STEAM and Agriculture, Alison holds patents for innovative technology and has presented widely on Big Data, the Internet of Livestock Things, and commercializing early stage technology ventures. An active angel investor and associate of the Creative Destruction Lab she enjoys mentoring early-stage technology companies in making the best use of their resources and intellectual property in preparation for scale.
Territory Sales Manager, John Deere Canada ULC, Gainsborough, Saskatchewan
Sponsor Panel Speaker
Profile:
Janell Taylor is based out of Saskatchewan where she calls on two large Ag & Turf John Deere Dealerships.
Along with her field team, Janell is responsible for executing tactical sales plans, promoting and supporting agriculture equipment financing, developing channel partners and strengthening relationships with customers.
Janell has worked for John Deere for almost 15 years in training, dealer development, finance and sales based out of Ontario, Alberta & Saskatchewan. Her focus is with dealers and customers in the agriculture and turf segments.
Janell earned her Bachelor of Commerce from the University of Saskatchewan in 2004 and earned her CPA,CMA designation in 2010.
Janell, her husband Chad and their son Avery farm in Gainsborough, Saskatchewan. In addition, they enjoy traveling, watching the Roughriders and playing an active part in their community.
Janell earned her Bachelor of Commerce from the University of Saskatchewan in 2004 and earned her CPA,CMA designation in 2010.
Janell, her husband Chad and their son Avery farm in Gainsborough, Saskatchewan. In addition, they enjoy traveling, watching the Roughriders and playing an active part in their community.
Trish Tetz, Arlen Hasenpflug & Melanie McDonald
Trish Tetz, Business Development Manager, Agriculture & Business Banking, BMO Bank of Montreal, Red Deer, Alberta
Arlen Hasenpflug, Senior Director, Agriculture and Agribusiness, BMO Bank of Montreal, Calgary, Alberta
Melanie McDonald, Vice-President & Regional Director, Trust & Estate Services (Western Canada), BMO Private Banking, Calgary, Alberta
Workshop Presentation Title • Financial Management
Part 1: Working with Your Banker
Access to capital is always top of mind for farm owners. Whether you're thinking about expanding your business, or purchasing new equipment, we invite you to join our panel of experts to learn about which capital options are right for you and your farm. You will gain invaluable insight from our Agriculture experts through a case study using sample financial statements and tools you take back to your business and implement.
Part 2: Wealth Management and Succession Planning for the Family Farm
You've worked hard to build your family farm, so it's important to make succession plans proactively to maximize the potential benefits while reducing the stress. For business owners contemplating sale or transition, setting goals, visions and exit plans early is critical for success. Building on the case study from Part 1, using practical examples our experts will walk you through your options for future planning.
Profile • Trish Tetz:
Coming Soon!
Profile • Arlen Hasenpflug:
Arlen has 10 years experience in commercial banking and finance with a focus on agriculture. Prior to her career in banking, Arlen had exposure to the ag market while working with the Ontario Cattlemen's Association, as well as her family owned accounting office in rural Ontario. Arlen holds a B.Comm in Agricultural Business from the University of Guelph and a CPA, CMA designation.
Profile • Melanie McDonald:
Melanie provides expertise and technical leadership for trust & estate solutions, as well as overseeing strategy, products, and policies for BMO trust professionals in Western Canada. Melanie joined BMO Trust Company in 2016. Prior to this role she was a partner and lawyer with one of Canada's largest law firms. Melanie has over 18 years of experience with a wide variety of estate, trust, corporate and tax issues, including estate and trust planning, administration and litigation. Melanie regularly assists families and business owners with cross-border and international planning and philanthropy issues.
Financial Adviser, Owner, Watty Insurance Services Ltd, The Co-operators, Abbotsford, British Columbia
Plenary Speaker
Presentation Overview: Sherry will tell her story of how she broke through the stereotype of farm insurance being a man's world and how rose above the challenges to become a successful insurance advisor.
Profile:
Sherry Watty started her insurance career at the age of 18 in Northern Ontario.  She began her career in a brokerage and by the age of 22 was managing the brokerage. She continued to advance her career and complete various training and schooling. In 2006 her family moved to Alberta. She began working for the Co-operators as a Financial Advisor and business owner in Slave Lake Alberta. She implemented a program in her office called the client review system to meet her new clients, understand their insurance needs to make sure they were well covered. In 2011 her office experienced the Slave Lake wildfire. Sherry and her family lost their home. Her number 1 priority was her clients and she took care of their needs first and assisted the claims team in working through the over 1000 insurance claims. Sherry has since obtained her Mutual Funds license and working on her CFP designation. Her office has won several customer service awards and well as Top Producer awards for different lines of business. She currently sits on the FAC board and the Presidents Advisor Council Board for the Co-operators. In 2018 she moved with her family to Abbotsford BC, to take over a Co-operators office. This office was a large farm/commercial agency which she knew would pose some challenges. She has risen to the challenge and once again used her client review program to assess her clients needs. In 2018 and 2019 her agency has won the BC Top Farm Producer. She is a firm believer in customer service satisfaction and her commitment to the clients has been a proven success in her career.
Managing Director & Team Lead, Corporate Finance, BMO Bank of Montreal, Calgary, Alberta
Panel Speaker
Profile:
Leah Weatherill is a Managing Director and Team Lead in Canadian Commercial Banking, Prairies Region, with Bank of Montreal. She leads a team of people that assist BMO's corporate customers with their lending and banking needs in a diverse range of industries across Alberta, Saskatchewan and Manitoba.
Leah started her career in commercial banking over 15 years ago managing a portfolio of small to medium sized businesses. Over the years, she grew her experience by managing client portfolios with larger and more complex borrowing needs, with time spent in Vancouver and the UK. Leah returned to her home town of Calgary and joined BMO in 2013. Prior to her current role, she was the Divisional Manger of Credit, Prairies leading a team of credit officers adjudicating mid market commercial loans. She prides herself on providing exceptional service to clients while also managing risk for the bank, and she strives to create a collaborative and supportive work environment for her team.
Leah holds a Bachelor of Science, Honours degree with a major in Mathematics from Queen's University. In her spare time she can be found with her family exploring the outdoor beauty that the Prairies and Rocky Mountains have to offer.
Vice President, General Manager, Silver Sage Beef Inc., Calgary, Alberta
Outstanding Entrepreneur Panel Speaker
Presentation Title • Diversification
Presentation Overview: Joining a panel of discussion on diversification and sustainability with our centurion family ranch.
Profile:
Growing an entrepreneurial-based family business with a focus on diversification and sustainability in the Agriculture industry. Leading with a strong sense of integrity and management with an ethical farm to plate mentality.