Our great lineup of speakers: Listen, Learn, Network & Grow!
Our speakers are industry leaders, market innovators and those passionate about creating success. We choose the best people from within and outside the ag industry to share their wisdom and knowledge with you.
Imagine the goals you could achieve with a little inspiration, and new and insightful skills from women who've "been there, done that" and are willing to share what they've learned along the way.
Meet the AWC EAST 2019 presenters that we have lined up to date:
Michael Bossy
President, Director of Marketing, Bossy Nagy Group Chartered Professional Accountants, Tillsonburg, Ontario
Workshop Facilitator
Workshop Presentation Title • The Most Important Word You Have Never Heard
Presentation overview: The Kolbe A Index identifies the striving instincts that drive your natural behaviors and the way you problem solve. It focuses on strengths and describes "MO", or, your mode of operation if free to be yourself.
Profile:
Mike Bossy has been a trusted business advisor to clients for over 30 years. Mike is a strategic thinker, and combines his extensive experience as a Chartered Professional Accountant with his numerous other business designations to provide a spectrum of valued services including accounting, trust and estate planning, taxation and business consulting, with particular expertise in intergenerational business and farm transitions. Mike is a graduate of Western University, Ivey School of Business and is a Chartered Professional Accountant. He is also a Certified Financial Planner® (CFP), Trust and Estate Practitioner (TEP), Certified Agricultural Farm Advisor (CAFA) and Kolbe™ Certified Consultant (KCC). Part of Mike's continuing education includes participation in The Strategic Coach® program.
In 2000, Mike was joined by Steve Nagy in forming Bossy Nagy Group Chartered Professional Accountants, a professional services firm that has grown to a team of over 50 members in three locations in South Western Ontario. Mike's extensive community involvement has included posts as president and director of the Tillsonburg District Chamber of Commerce, director of Tillsonburg Hydro, Chairman of Tillsonburg's Economic Development Committee, chair of the Reliving the Legacy capital campaign and mentor for Tillsonburg Junior Achievement. Currently, Mike is a national director for the Canadian Association of Farm Advisors. In 2011, he was selected Tillsonburg's Citizen of the Year and in 2012 was selected recipient of the Queen's Diamond Jubilee medal. Mike coached basketball for 20 years at Glendale High School and through the Ontario Basketball Association and is founder of Basketball Tillsonburg.
Lorna Callbeck Cross & Cassie Josephson
Lorna Callbeck Cross, President & Principal Facilitator, People Things Consulting, Saskatoon, Saskatchewan
Cassie Josephson, Director & Facilitator, People Things Consulting, Saskatoon, Saskatchewan
Workshop Facilitators: Monday Morning Workshop 6
Workshop Presentation Title • Stress & Self-Care in Agriculture: Supporting You and Those You Care For
Presentation Overview: You're stressed; the uncontrollable variables are overwhelming. Learn about the different types of stress and how it can show up in you and others around you. Share ideas on mental wellness and psychological health and safety with respect to yourself, the farm and the agriculture sector. Begin to develop a self-care plan and skills to assist with Psychological First Aid. Let's work together to build resilience in yourself and the industry.
Profile • Lorna Callbeck Cross:
Lorna Callbeck Cross is a graduate of the Master of Arts in Global Leadership, from Royal Roads University in Victoria. Lorna is President and Founder of People Things Consulting, with 35 years proven expertise, as an employee and consultant, supporting corporations, not-for-profit organizations, educational institutions, and individuals. Lorna is very proud of her rural roots, growing up on a mix cattle grain operation in northwest Saskatchewan. Lorna is committed to increasing mental health education and finding ways to encourage these much needed conversations.
Profile • Cassie Josephson:
Cassie Josephson is a recent graduate from the University of Saskatchewan, with a Bachelor of Science degree in AgriBusiness. After successful sales roles in the agriculture industry, she joined People Things Consulting as Director and Facilitator. Cassie is passionate about breaking barriers and stigmas around mental health, to help create safe, inclusive communities. Throughout her own educational and personal journey, Cassie has seen first-hand the effects of lack of education and stigma surrounding mental health. People Things Consulting is a social purpose organization focused on strengthening psychological health and wellness, and culturally competent practices, leading to increased diversity and inclusion for all.
Adam Carter
Adam Carter, Vice President, Business Advisory & Succession Planning, BMO Private Wealth, London, Ontario
Speaker for Workshop 5: Financial Management
Profile:
Prior to joining BMO Private Wealth in 2018, Adam worked for KPMG since 2005. Working within the KPMG Corporate Finance Group, he advised private company owners across multiple industries, with business enterprise values ranging from $3 million to +$100 million, on divestitures, acquisitions, due diligence, projections/financial modeling, and business valuations for multiple purposes. Other areas of experience include corporate restructuring and insolvency, financings, financial modeling & projections and corporate audits. Building relationships with clients is paramount to becoming a trusted advisor. Adam's goal is to develop rapport with clients through open communication, trust and exceptional service. Leaning on his diverse background and experience, Adam provides guidance to private business owners and families throughout Southwestern Ontario in the areas of business succession, transition, growth through acquisitions, sell-side M&A, and valuations for the purposes of wealth planning and exit planning.
Tamara Carter
Co-founder, Carter Cattle Company Ltd., Lacadena, Saskatchewan
Plenary Speaker
Presentation Title • From Cowtown to cow patties, a city girl's survival guide to country life
Presentation overview: Twenty-six years ago, Tamara met a charming cowboy during the Calgary Stampede. She fell in love with the man, with the farming and ranching lifestyle, and embraced it wholeheartedly. She will share some of the unique challenges that she faced as an "import" coming into a small agricultural community, as well as some of the challenges that are common to many women who choose a career in agriculture.
Profile:
Tamara Carter, her husband Russ and their three children run a mixed farming operation along the South Saskatchewan River near Lacadena, SK. They crop just under 6,000 acres and run 150 head of commercial Black Angus cattle on 6,000 acres of native prairie. A former Calgary resident and University of Calgary Alumni, Tamara was transplanted by marriage to Saskatchewan in 1993. She embraced rural life and the challenges of both farming and ranching with enthusiasm as she became part of an operation that has spanned three generations. After 25 years of constant learning within the agriculture industry, her perspective continues to be one of curiosity and excitement. Her interest in forages and research led her to the Saskatchewan Forage Council, which she is currently chairing for a second term. She also sits on the Strategic Advisory Board of the newly constructed Livestock and Forage Centre of Excellence, in Clavet, Saskatchewan. An avid horticulturalist and Master Gardener, Tamara can often be found outside working cattle, patching fence or pulling weeds in her many gardens.
Michelle Cederberg
Health and Productivity Expert, Change Agent, Professional Coach, Calgary, Alberta
Plenary Speaker
Presentation Title • The Success-Energy Equation
Overview: Success is something we all want more of; career success, a successful relationship, success saving money or sticking to an exercise plan, success raising kids or retiring well, success with a business venture or physical pursuit … success in life. And, when you focus on your goals, habits, mindset and health as integrated variables for success, it improves your capacity in measurable ways, and can truly transform how you work and live. That's Success-Energy, and it's a formula worth calculating.
Profile:
Health and Productivity Expert Michelle Cederberg galvanizes people to blaze their own path and live a bigger life. An in-demand speaker, author, health expert, coach and consultant, she helps individuals and organizations break through the physical and emotional barriers that get in the way of high-performance – in business and in life.
She holds a Masters in Kinesiology, a BA in Psychology, a specialization in Health and Exercise Psychology, is a Certified Exercise Physiologist (CEP), a Certified Professional Co-Active Life Coach (CPCC) and an ORSC Trained Team Coach. She combines mind, body, and practicality to inspire change!
A natural storyteller, Certified Speaking Professional (CSP) Michelle transports delighted audiences on a journey of truth and laughter that will empower them to optimize health and energy habits, find better work-life balance and gain momentum toward the personal legacy they long to create. Michelle is the author of three books. Her newest book 'It's How We Work' will be released early 2020.
Jennifer Cook
President/Financial Advisor, Jennifer Cook & Associates Inc. Co-operators Insurance, Kincardine, Ontario
Workshop Facilitator
Workshop Presentation Title • The 7 Secrets for Business Success
Presentation Overview: How to differentiate yourself from your competition and captivate clients/customers: 1- create a powerful brand, 2- build a champion team, 3- network for success, 4- craft a strategy for success, 5- maximize client/customer engagement, 6- keep the dream alive and growing, 7- build a legacy.
Profile:
Jennifer graduated from University of Guelph with a Bachelor of Science in Human Kinetics and a minor in Nutrition. She is currently working towards her CFP, CHS and has recently been awarded her EPC- Elder Planning Councilor designation. Before coming to Co-operators she was a Retirement Legacy Planner with a group benefits company out of Guelph where she specialized in retirement planning for large organizations. She is married to Darren and they have two children… Riley and Ivy.
Jennifer started with Co-operators Insurance in October of 2006 as a home/life associate. She went on to buy the Kincardine office as an SR4 advisor on December 15th 2011. During that time the office has achieved many company accolades including: region builder's status seven times, executive builders three times, Financial Star and MDRT (million dollar round table) aspirant. Jennifer was named Business Person of the Year for Kincardine in 2015 and was also awarded the Co-operators community achievement award in 2013. She was also nominated for RBC Women of Influence in 2018.
Jennifer believes that community involvement is a mandatory element to success. She is the past president of the Kincardine and community health care foundation, member of the Kincardine Chamber of Commerce, a director for the BIA, co-chair for the Kincardine Reunion and serves on many other committees. She also attends numerous community events along with her staff.
Denise DeJong
Vice-President BMO Bank of Montreal, Hanover, Ontario
Speaker for Workshop 5: Financial Management
Profile:
Denise is the Vice-President at the Business Bank for Bank of Montreal where she leads a team of Business Banking professionals, in Grey and Bruce Counties. She has worked in various roles within personal and business banking. Denise has been very successful in balancing a very busy career, family and many community activities. In her current position as Vice President, Business Banking she is accountable for financial services the Bank Provides to its Business and Agriculture customers. Her team of 12 Relationship Managers, specialize in financing a wide range of agriculture clients engaged in primary production.
Kelly Dobson
Chief Leadership Officer, LeaderShift Inc., Fairfax, Manitoba
Workshop Speaker
Workshop Presentation Title • Achieve More of What Matters Most through Leader Effectiveness
Presentation overview: Developing high leader effectiveness allows us to achieve more of what matters most, professionally and personally. Kelly Dobson of LeaderShift will highlight what the research says about leader effectiveness and its impact on business results. Through an interactive session, participants will experience how self-awareness is developed and empowers leaders to accurately and authentically communicate, improving relationships and business performance.
Profile:
Kelly Dobson is an active fourth generation farmer who is committed to developing leader performance in agriculture and family businesses. Kelly takes his decades of farm and industry experience and adds his lifelong passion for leadership to support agriculture leaders to improve their performance through LeaderShift Inc. Accepting that there are no quick fixes to increasing leader effectiveness, Kelly developed the LeaderLab to network, train and support clients wherever they live and work. His commitment to developing the LeaderShift system has evolved with the partnership of Farm Management Canada into the National Farm Leadership program.  It continues to integrate leader assessment, positive psychology, family systems and leadership theories to provide comprehensive development to Canada's current and future ag space leaders. Kelly holds a Masters in Leadership and a Executive Coaching certification from Royal Roads University, and is a member of the Canadian Association of Farm Advisors. When he is not studying for his psychology doctorate and farming, he contributes to Country Guide Magazine and provides workshops across Canada.
Jinel Ference
Double F Farms, Kirriemuir, Alberta
Plenary Panel Speaker
Presentation Title • A Discussion with Two Outstanding Farmers
Presentation overview: Meet two Outstanding Young Farmer Winners, and hear their story about their operation and how they have set themselves up for success.
Profile:
Amazing things can happen by embracing new ideas and experiences and being committed to learning.
Jinel feels that her title or perhaps profile is continuously evolving as new opportunities come into her life and she has embraced them.  Spending years as an elementary teacher, marrying a farmer, being a stay at home mom and becoming more involved in their farming operation has brought her to where she is today. A passion for education, agriculture, family and community are all key focuses in her everyday life.
Double F Farms is continuously expanding, making improvements and finding ways to be more efficient. Farming/Ag business is their career that they don't always outline as such because it is their entire lives. It is exciting to be a "young" farmer and to have an inspiring partner. They are proud of their life in the Ag industry and to be raising three kids on the farm.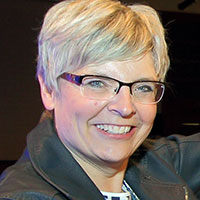 Dianne Finstad
Communications Specialist, Red Deer, Alberta
Master of Ceremonies
Profile:
Dianne Finstad is a communications specialist with a passion for all things agriculture. She spent over thirty years as a broadcaster and reporter, specializing in agriculture and rodeo coverage. Raised on a ranch in southern Alberta, she was able to combine her 4-H inspired interests in communication and ag into an interesting career, which now takes her to exciting places like Advancing Women in Agriculture conferences. Based in Red Deer, she began her career at CKRD-TV and radio. Her program 'This Business of Farming' was a staple in many rural households around the province. She also worked at KG Country Radio, providing daily farm reports and regular rodeo coverage. As well, Dianne has MC'd at events ranging from Farm Credit Canada Forums to national dairy shows. She works as both a show announcer and rodeo reporter at the Calgary Stampede. Her work has received numerous awards, and she is an honorary member of the Alberta Institute of Agrologists and the Alberta Human Ecology and Home Economics Association. Dianne is currently doing agriculture, rodeo, writing and speaking work across the country.
Sheri Griffiths
BMO Regional President, Business Banking, Greater Ontario Region – Toronto, Ontario
Speaker for Workshop 5: Financial Management
Profile:
Sheri Griffiths is responsible for BMO Bank of Montreal's Business Banking in the Greater Ontario Region. Sheri brings over 30 years of extensive retail and business banking experience to this role. She started her career in banking as a teller and has progressed through many roles and several locations during her journey including relocating her family several times. She holds an MBA from Dalhousie University and is a passionate champion of mentoring Women in Business Banking as well as promoting BMO as the bank of choice for female entrepreneurs. She also serves as Executive Sponsor BMO for Women.
Amanda Hammell
Sr. Financing Specialist, Agriculture, RBC Royal Bank, Hanover, Ontario
Plenary Speaker
Presentation Title • Family, Farming and Finance; Making it All Work
Presentation overview: Are you working full time in Agriculture, are you farming with family or your spouse, any chance you have some children running around as well? If you answered yes to any or all of the above questions than come and share in the journey as we share ideas about navigating through this busy world while forming a career, raising our children and building our farming operation.
Profile:
Amanda grew up on cash crop & beef feedlot farm just out of Brampton, which along with involvement in the 4-H program, built the foundation for a career in Ontario Agriculture.  She earned a Bachelor of Commerce Degree specializing in Agricultural Business with Honors at the University of Guelph. Currently Amanda is a Senior Financing Specialist with RBC Royal Bank where her focus remains in Agriculture on developing solutions to help clients achieve their business and financial objections.  She has just recently celebrated her 15 year Anniversary with RBC Royal Bank. Community involvement is in part of her DNA and has played an active role in various agriculture committees and boards. Amanda and her husband Steve along with their 3 daughters Madison, Hailey & Ava currently own and operate a dairy farm near Tara, ON, the heart of Bruce County.
Debra Harrison
President, John Deere Canada, Deere and Company, Grimsby, Ontario
Plenary Speaker
Presentation Title • What Would I Tell My Younger Self?
Presentation overview: I would like to share my journey from a very humble beginning. Over my career, there have been many ups and downs, but regardless of the situation there has always been something to learn that allowed me to grow. In some cases however, it takes time to appreciate the learning opportunity.
Profile:
As president of John Deere Canada ULC, a wholly-owned subsidiary of Deere & Company, Debra Harrison is responsible for directing the operations of the Canadian corporate office and providing strategic leadership for the company, working closely with the Board of Directors for John Deere Canada ULC, key management teams and functional area leads to establish long-range goals, strategic plans and policies. These functional areas include Corporate Compliance, Finance, Legal, Corporate Communications, Facilities Management, Human Resources, Citizenship, Business Analytics and Information Technology. Debra also serves as chairman of both the Board of Directors and the John Deere Foundation of Canada which provides funding to organizations that are focused on improving healthcare, empowering youth through education, and developing the communities in which John Deere is located. In her 39-year career with John Deere, Debra has worked in a variety of areas including Product Engineering, Enterprise Strategic Quality and Production Systems and in Factory-based operations. These roles have allowed her to work in both Canada and the United States and have taken her to locations in Europe, Asia and South America where she had had the opportunity to meet new people and learn about different cultures and practices from around the world. Debra holds a BSc in Engineering from McGill University in Montreal, Quebec and is a current member of the Professional Engineers Ontario (PEO). In her spare time, she enjoys cycling, travelling with her daughter and spending time with friends and family.
Vanessa Horton
Sr. Agriculture and Agri-Business Account Manager, RBC Royal Bank, Elmira, Ontario
Plenary Speaker
Presentation Title • Family, Farming and Finance; Making it All Work
Presentation overview: Are you working full time in Agriculture, are you farming with family or your spouse, any chance you have some children running around as well? If you answered yes to any or all of the above questions than come and share in the journey as we share ideas about navigating through this busy world while forming a career, raising our children and building our farming operation.
Profile:
Vanessa grew up on a small cow calf operation outside of Drayton, Ontario. She earned a Bachelor of Commerce Degree specializing in Agricultural Business with Honors at the University of Guelph. Vanessa has worked in the Agriculture industry in a couple roles with the Ontario Government as well as RBC. Over the past 7 years she has been in an SR. Agriculture Account Manger role with in the Southwestern Ontario market. Vanessa and her husand Travis operate a cash crop/construction operation along with their three girls Ava, Olivia and Maeve in Wellington County. This allows her to keep in touch with the industry on a personal level as well as the business prospective.
Cheri Knott
Regional Vice President Personal and Small Business Banking, Bank of Montreal, Owen Sound/Hanover, Ontario
Leadership Panel Speaker
Profile:
Cheri is very proud that her entire banking career of over 33 years has kept her in the rural markets. She began her banking career as a teller in Collingwood and has worked in many different roles in both sales and management positions throughout the years prior to her current role of Regional Vice President Personal and Small Business Banking. Cheri is accountable for Personal and Small Business Banking services offered to clients as well as the branch network that serves them in the Owen Sound/Hanover market. She sits on the board of the Owen Sound Hospital Foundation and is currently the Board Chair. Cheri is also involved in bringing "Women In Agriculture" events to her market. In her spare time, she enjoys travelling and volunteering in her local community.
Steph Kowalski
Agronomy Lead, Sollio Agriculture, Thorndale, Ontario
Plenary Speaker
Presentation Title • Squashing Age-Old Stereotype … Age!
Presentation overview: How can someone successfully be in a leadership role when they are under 30 years old? Join Steph in the discussion!
Profile:
Steph grew up on a cash crop and potato farm in Alliston, Ontario. She currently works as the Agronomy Lead for Sollio Agriculture, covering Ontario and the Maritimes. She works to support the Agromart Group on the ground with trials and new products, providing everyday agronomic support as well as training and development. Steph also leads the 4R Nutrient Stewardship Strategy with the Agromart Group. She sees a variety of crops and environments and learns something new everyday. She has a degree in biology from Wilfrid Laurier University and is a Certified Crop Advisor. She has her 4R Nutrient Management Speciality and her Resistance Management Speciality.
Kathy Krug
Kathy Krug, Partner and Head of Global Food and Agribusiness, Norton Rose Fulbright Canada LLP, Calgary, Alberta
Plenary Speaker
Presentation Title • Transformation: Tackling Emerging Global Risks
Presentation overview: The agriculture industry is transforming before our eyes. The incorporation of blockchain, artificial intelligence, Big Data, supply chain management systems and processes to deal with ever more complex regulatory regimes and mitigate the impacts of trade disputes touch all of us—whether we are producers or leaders in commodities companies, financial institutions or service companies. Using her own transformation from farmer to award-winning journalist to partner of a global law firm, Kathy will provide a glimpse into the big issues that keep her awake at night … and in a constant state of transformation.
Profile:
Kathy Krug is a partner and is the chair of Norton Rose Fulbright's Global Food and Agribusiness team of  240 lawyers located in 50 offices around the world. The team has recently been recognized by Chambers as one of the most highly ranked agribusiness law teams in the world. Kathy is a founder of the Canadian Bar Association's Food and Agribusiness Law section, serves as an expert advisor to Canada's Deputy Minister of Science, Innovation and Economic Development in the agriculture and agri-food sector, is an officer for a TSX-listed software company, and has served on boards for foreign-owned Canadian companies. Her combined passion for agriculture and law have led her to develop a deep understanding of the regulatory and technological risks facing the industry and a desire to find innovative, pragmatic solutions for clients. Kathy is a two-time winner of the Client Choice Award for the USA & Canada for her legal advisory work in the area of corporate law and governance and was an award-winning journalist prior to becoming a lawyer. She holds a bachelor degree in Journalism and Communications and an LLB / Juris Doctor from the University of Calgary. She has been a member of the Alberta Law Society since 1998 and originally hails from a grain farm near Balcarres, Saskatchewan.
Maureen McCutcheon
Agriculture and Commercial Banking, Business Development Specialist, CIBC, Central and Southwestern Ontario, Essex, Ontario
Leadership Panel Speaker
Profile:
Born and raised on a cash crop, vegetable, fruit and beef farm in Florence, Ontario which situated between Chatham, Sarnia and London. (God's country)
I started my career in agriculture at a young age selling produce around our little village. Attended University of Windsor completed 2 1/2 years and then decided to follow my agriculture interests at Ridgetown College as a Westag. Then as a student worked as a crop scout, research assistant, inputs sales, grain marketing with various companies which gave me lots of well rounded experience.
After graduation in 1993 interviewed for various positions and took a full time grain marketing specialist position with Orford Co-op. After 4 years, I moved on to a position with Bowes Publishing and managed a territory in advertising sales for farm publications. In 1998 I was contacted by a head hunter for a position with Agricorp which is a crown corporation in Ontario administering farm support programs. I was the Territory Manager for Essex and Kent Counties. Later on in my career at Agricorp I moved into a project manager position developing specialty programs. In 2004, I was approached again by a head hunter for management trainee position with CIBC. After my first year with CIBC they quickly figured out my large network and knowledge of agriculture. In Fall of 2006 I became the only female Agriculture Specialist for CIBC. I became one of the guys and broke them in to say the least. Now after 15 years with CIBC I now have revolved to the Agriculture and Commercial Business Development Specialist. My area covers from Windsor to Niagara Falls to Listowel. I work very closely with all of the Relationship Managers throughout my area.
I reside with my husband and six kids (twin boy/girl, single boy all 14 and triplet girls 10 blonde, brunette and redhead) on a cash crop farm in South Woodslee close to a Windsor. I also farm land in Lambton County close to my home farm. In my spare time I like to do yoga, atv, bake, cook, entertain, attend concerts and spend time with family.
Kelty McKay
Willowtree Farm, Port Perry, Ontario
Plenary Panel Speaker
Presentation Title • A Discussion with Two Outstanding Farmers
Presentation overview: Meet two Outstanding Young Farmer Winners, and hear their story about their operation and how they have set themselves up for success.
Profile:
Kelty McKay grew up in London, Ontario. She attended Lakehead University in Thunder Bay and received an honours Bachelor of Science in Forestry. This is where she met Alex McKay. After graduation Alex and Kelty returned to his family farm in Port Perry. Kelty joined the McKay family in the running the daily operations of Willowtree Farm and growing their existing business. Kelty manages the kitchen/bakery/café, the CSA program, Healthy school fundraisers, school tours as well as helps to manage the farm production and labour.  Kelty and Alex have also enjoyed traveling in the winter. Since joining the family farm, Kelty received a Premiers award for her healthy food fundraiser program and last year the McKay family was honoured to be named one of Canada's Outstanding Young Farmers for 2018. Kelty enjoys sharing her family's passion for farming with the students, visitors and her 2 young boys.
Mary Lynn McPherson
Senior Consultant, STRIVE!, Sparta, Ontario
Workshop Facilitator
Workshop Presentation Title • Networking Plus
Presentation overview: Arggh! (inside voice)  After the brief euphoria of having overcome the butterflies associated with approaching and engaging with a stranger, you're now trapped.  How do you politely disengage in order to meet others in the room?  Does the conversation seem as stilted to them as it does to you? Whether you relish or resist networking, it is a business development tool that has the potential to significantly influence your success. Join us for a networking plus session the morning of Day 1.  The 'plus' part will be networking tips shared periodically during the session.  Tips: on presence… for introverts… on navigating the 'extraction'… for follow-up.
Profile:
What 'powers up' Mary Lynn McPherson from STRIVE! is seeing individuals and teams operating collaboratively from their strengths.  Networking has been one of the techniques she's employed over the last 17 years to build her governance consulting clientele with STRIVE! and before that, her book of agricultural and agri-business with Royal Bank.  Her networking style matches her facilitation and personal style. What's your style? She's interested in learning from your networking experiences in a way that will advance the personal effectiveness of those women in agriculture who attend this session. There will be lots of opportunity to connect in a 'learn to do by doing' way.
Mary Lynn, a 4-H Alumnus, has been a 'learn to do by doing' practitioner and this is seen in the interactive approach she takes to her consulting work.  She is currently mentoring several young women including the leaders of a fledgling not-for-profit focused on serving at-risk youth.
Fiona Murray
Vice-President, Public and Government Affairs, Canadian National (CN), Montreal, Quebec
Leadership Panel Speaker
Profile:
Fiona Murray was appointed Vice-President, Public and Government Affairs in October 2018, based in Montreal. In this role, she leads lead the Company's stakeholder engagement initiatives through her North American responsibility for CN's relationships with governments at all levels, as well as media relations, sponsorships and donations, community relations and corporate communications.
Prior to that, she had been Vice-President, Industrial Products since March 2016.
Ms. Murray joined CN in 1992, initially working in Public Affairs before moving to positions of increasing responsibility within Supply Management and Sales and Marketing, including Account Manager (Metals and Minerals), Director of Sales (M&M and Petroleum & Chemicals), Assistant Vice-President Sales (P&C), AV-P Sales and Marketing (P&C), and AV-P Sales and Marketing (Industrial Products), before being named Vice-President, Corporate Marketing in May 2012.
Ms. Murray holds a Bachelor of Arts degree and Master of Library and Information Science degree from McGill University, in Montreal.
She is a member of the Board of the Canadian Chamber of Commerce and a member of the Board of Montreal's Ecomuseum.
Jenny Ose
Manager, Ag & Turf, Canadian Sales Region, John Deere Canada ULC, Grimsby, Ontario
Leadership Panel Speaker
Profile:
Jenny Ose is based out of Grimsby, Ontario where she leads the Ag & Turf Sales team for Canada.
Together with her team, Jenny focuses on delivering sustainable growth, developing our channel partners and supporting our customers to achieve a distinctive customer experience across the lifecycle of our products and solutions.
Jenny has worked for John Deere for 24 years in a variety of roles and locations. Her deep roots in agriculture have led her various roles in multiple locations across the globe including the USA, Western Europe, South America and the past four years in Canada.  Her focus is with dealers and customers in the agriculture and turf segments.
Jenny's hallmark style is connecting and developing people. Her passion and energy for our business is contagious and her incredible breadth of experiences gives her a solid foundation leading with and working with the Canadian team.
Jenny earned a Bachelor's degree from Augsburg University and a Master of Business Administration from Kellogg School of Management at Northwestern University.
Jenny and her husband Shaun enjoy traveling to new places as well as spending time with family at familiar places like Jenny's family farm in Thief River Falls, Minnesota, or their vacation spot in Florida.
Meghan Pedros
Relationship Manager, Talent Acquisition Business Banking Programs, TD Bank Group, Toronto, Ontario
Workshop Presenter
Presentation Title • Build Your Brand, Achieve Success!
Workshop Overview: This interactive workshop will take you through a step-by-step process on how to effectively build and leverage your personal brand to achieve success! Whether you are a strong negotiator or looking to build confidence, this workshop will add tips and tricks to your personal development checklist.
Profile:
Meghan Pedros is a career oriented wife, mother, marathoner, mentor and brand ambassador with a passion for developing others through inspiration, mentorship and integrity.   Over her 14 year career with TD, she has held a series of progressive roles in Wealth Management, Retail, Direct Channels and Human Resources, to name a few.  In her most recent role, Meghan lead the Canadian Banking Management Associate & Graduate Leadership Programs; which focus on developing general management and leadership capabilities across the organization. In her current role as Relationship Manager; Talent Acquisition, Meghan leads the diversity sourcing and recruitment strategy for our Business Banking Associate Programs across Canada.  With a passion for personal development and growth, Meghan plays an active role in supporting Women in Leadership and Diversity initiatives both internally and externally; advocating TD as a career choice for new grads and a "Place to Be You".
Dana Sachvie
Senior Administrative Assistant, Cargill, Winnipeg, Manitoba
Leadership Panel Speaker
Profile:
Dana Sachvie is based out of Cargill's Canadian head office in Winnipeg and has been with Cargill since 2007.  Dana started in the Law Department and now works in Corporate Affairs, working in government relations, corporate responsibility and employee engagement.
In addition to her normal course of work, Dana is the Chair of Cargill's Agricultural Supply Chain, North America's Women's Resource Group whose membership spans across Canada, Mexico and the United States.  With a mission of offering a network of relationships that foster growth, development, connectivity and support for women to rise to their full potential it is a perfect fit for Dana's passions – being provided the opportunity to work, meet and network with employees from all over Cargill and the industries they support.
Dana graduated from Red River Community College, Legal Assistant program in 1991, and with a keen interest in continued learning, pursued and completed the HR Management Program through the University of Manitoba in 2017.  Outside of work, Dana enjoys spending time with her husband Darren and their two children at their family cottage in Lake of the Woods, Ontario.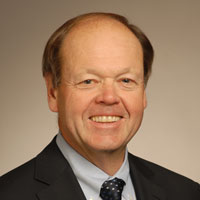 John Scott
Chair, Canadian Agri-Food Policy Institute, Niagara on the Lake, Ontario
Plenary Speaker
Presentation Title • Consumer Mega Trends Setting the Pace for our Food Chain
Presentation Overview: An insightful glance at the trends which are driving significant change in the food supply chain from retail and food service to the farm gate. Included is a discussion on the implications the new reality holds for the industry.
Profile:
John F.T. Scott is an economist, consultant and speaker specializing in the Food Distribution and Retail sector.  He currently analyzes strategies and frequently writes and speaks on Canada's food industry to various groups and companies.   He is renowned for weaving the preferences of the evolving consumer into the evolving dynamics of the industry.
John is Chair of both the Board of Directors of the Canadian Agri Food Policy Institute (CAPI) and the Board of Governors of Niagara College.  He is Past Chair of the acclaimed Vineland Research and Innovation Centre and a former Director of the Alberta Livestock and Meat Agency (ALMA).   He currently serves on the Board of Platform Genetics Inc. as well as the North American Advisory Board of Monaghan Mushrooms.
John is one of only three individuals who have received both of the highest recognitions in Canada's retail food industry – the Golden Pencil (Hall of Fame) and the Spirit of the Independent Award (Inspiration to Entrepreneurs in the Sector).
Sue-Ann Staff
President / Winemaker, Sue-Ann Staff Estate Winery Inc, Jordan, Ontario
Plenary Speaker
Presentation Title • Creating the Fancy Farm Girl; The Stories, Tales and Fables
Presentation overview: A great wine is really a story in a glass. And that story has a cast of characters from the people that make, to the land that grows it and to the experience of those that enjoy drinking it. Hear some of Sue-Ann's tales that helped create the wines and form her winemaking philosophies.
Profile:
Winemaking has been a life-long ambition of Sue-Ann's having stemmed from a family background in viticulture spanning five generations in the heart of the Niagara Peninsula encompassing two "Grape King" titles.
After her formal winemaking education from the renowned Roseworthy College, University of Adelaide, South Australia and several vintages abroad, Sue-Ann has become one of Canada's top winemakers by winning over 450 national and international wine awards. She was the youngest and first female "Winemaker of the Year 2002" by the Ontario Wine Societyand one of four "Women in Wine" in the world by the International Wine and Spirits Awardsof London, England … twice. Most recently, Sue-Ann received the " 2018 Tony Aspler OC Cuvée Award of Excellence" for her contributions to national and international awareness of Canadian wine.
Miss Staff is President/Winemaker of Sue-Ann Staff Estate Winery is based on her family's two-hundred-year-old estate in Jordan, Ontario producing high quality VQA wines from grapes grown on their Niagara Escarpment property. Sue-Ann's wines are bold with a delicate touch. Look for exceptional Rieslings, opulent reds, delightful rosés, festive sparklings and seductive Icewines.
The launch of "Fancy Farm Girl" wines produced by Sue-Ann brings downhome-chic VQA wines that are effortlessly elegant and unpretentiously fabulous. A broad range has been launched with great success in the LCBO and are now exported to Manitoba, Saskatchewan and Quebec.
Sue-Ann Staff Estate Winery Inc was awarded "2014 Niagara Entrepreneur of the Year" Emerging Business and the 2015 Shannon Passero "Women In Business" Award. The wine shop's walls are adorned with dozens of awards from regional and international competitions continuing her tradition of fine winemaking in the Niagara Peninsula.
Lisa Suffern
Financial Advisor, Lisa Suffern & Associates Ltd, The Co-operators, Listowel, Ontario
Leadership Panel Speaker
Profile:
Lisa has been an financial advisor and owner of the Listowel and Mitchell Co-operators for twenty-two years. Specializing in rural, agriculture-based clients, Lisa has focused on holistic-based planning, comprising of risk and asset management with a strong emphasis on legacy & succession implementation. This specialized knowledge of insurance has been developed over her tenure at the Co-operators as she has obtained numerous certifications: a designation as a Materials Management Certified Purchaser; a Mutual Funds license; both Life and OTL licenses; a Certified Financial Planner (CFP) designation; and, a designation as an Elder Planning Counsellor (EPC). Lisa has built her business on the core belief of working with her clients and creating value-added services so that they can be involved in the process, ultimately ensuring they understand the risks and exposures. With these ideals on the forefront, Lisa and her team are known for their phenomenal levels of staff knowledge and client engagement. Through her professional career, Lisa has gained highly specialized knowledge of agriculture – but this is not where it began. She was born and raised on a beef farm in Southwestern Ontario and is now married to a dairy farmer, Dirk. Together they have four children who all have remained involved in the agriculture sector through different capacities. Lisa attributes her rural, agriculture-focused upbringing to her professional success. Through her time in 4-H or working on her family's farm, she developed a hard work ethic, perseverance, and respect for the agriculture industry in whole, all of which shines through in her work today.
Steph Towers
Herdsman & Manager, Dairy Educator, Macksvilla Farms Ltd., Dairy Farmers of Ontario, Glencoe, Ontario
Panel Speaker
Profile:
Steph is the herdsman and HR director at their family farm, Macksvilla Farms Ltd, located outside of Glencoe, Ontario.
She has been farming full-time with Cameron, and his parents, since 2015. Steph is active within her community, with roles as a 4-H leader, and co-chair of the Glencoe Fair Ambassador program. Steph also enjoys being involved with the Middlesex Dairy Producers Committee, where she is currently serving as Secretary. In her spare time, Steph enjoys swimming, biking and running, and is currently training for her first Ironman 70.3.
Janita Van de Velde
Director of Strategy and Corporate Social Responsibility, Farm Credit Canada, Regina, Saskatchewan
Plenary Speaker
Presentation Title • Life According to Me
Presentation overview: Life's funny, isn't it? We stumble through our days, exuding a quiet (and perhaps unfortunate) confidence that our time on this planet is infinite. We often dream of things we'd like to pursue, and gently dismiss them with statements like, "one day…" or "soon…" or "when I finish this, then maybe…"
In this personal talk, Janita will remind us that a day will come for all of us when our time is up – that moment when it dawns on us, that this was it. That this was our one shot. If Janita could turn back the clock and find her younger self, there are things she would like her to know. These are life's secrets, according to Janita. Bring a pen and paper.
Profile:
Janita Van de Velde is Director of Strategy and Corporate Social Responsibility at Farm Credit Canada located in Regina, Saskatchewan. She has worked at FCC for 25 years and began her career as a summer student with the organization. Janita is a former Grainews columnist and author of the award-winning travel memoir, Postcards Never Written. She is known among friends and colleagues for her candour, her sense of humour and her generosity – she donates a portion of all proceeds from the sale of her book to charity, most notably to World Vision and FCC's annual Drive Away Hunger campaign. To date, those donations have exceeded $20,000. Janita lives in Regina with her husband and three children.
Kayla Veldman
Veldman Poultry Farm Ltd., St. Marys, Ontario
Plenary Speaker
Presentation Title • Farming with Family
Presentation Overview: Our experience growing up on an egg, pullet and cash crop farm, navigating post-secondary school in agriculture and working in the industry / continuing to farm with family.
Profile:
Kayla was raised on an egg, pullet and grain farm near Embro, Ontario. She followed her love of agriculture to the University of Guelph where she completed a Bachelor of Science in Agriculture, graduating in 2017. She currently works full-time off farm as a private agronomist & seed sales representative. She also works part-time on her family's farm. She recently became a Certified Crop Advisor in Ontario, with a specialization in Resistance Management. Kayla enjoys traveling and experiencing agriculture in different parts of the world. She also enjoys spending time as a 4H leader and private pilot.
Megan Veldman
Manager, Veldman Poultry Farm Ltd., St. Marys, Ontario
Plenary Speaker
Presentation Title • Farming with Family
Presentation Overview: Our experience growing up on an egg, pullet and cash crop farm, navigating post-secondary school in agriculture and working in the industry / continuing to farm with family.
Profile:
Megan Veldman is a third generation egg farmer, living in St. Marys, Ontario. She graduated from the University of Guelph with a Bachelor of Science in Agriculture in 2013. She worked off farm for two years, as a customer service representative at a local feed mill, before returning home to work on the farm with her family. She learned the ropes of the business at the home farm, shadowing her mom and dad for a couple of years, before helping design their newest enriched layer barn. She now manages that barn on her own and is in charge of its daily operation, as well as managing all the books.
Kevin Werner
Former Vice President of Commercial and Agriculture Banking, Toronto-Dominion Bank, Calgary, Alberta
Plenary Speaker
Presentation Title • Getting Mental Illness Out of the Closet
Presentation Overview: To help the public better understand what mental illness is and is not. To also help break down the stigma associated with mental illness, recognize the symptoms, provide personal experience on mental illness and what to do about it.
Profile:
Kevin grew up on the family farm 16 km west of Regina near the hamlet of Grand Coulee, where he attended grade school. He completed high school at Luther College in Regina and then obtained his Bachelor of Science in Agriculture with a major in economics at the University of Saskatchewan in Saskatoon.
Upon graduating he worked as an Account Manager for Farm Credit Corporation for three years in various locations in Saskatchewan and then joined the TD Bank as an Ag. Account Manager in Saskatoon. After a couple of years, Kevin was assigned a project in Toronto to develop and deliver an Ag Credit Training Program which he delivered nationally to agriculture and commercial bankers.
Kevin then transitioned into Commercial Banking in Toronto, and worked in various locations such as Lethbridge, Calgary, Red Deer and Winnipeg, progressing through more senior roles; and was appointed Vice President Commercial Banking. He was responsible for Commercial Banking in Winnipeg and Red Deer and then came back to his agricultural roots as Vice President in charge of Agriculture and Agribusiness for Alberta and British Columbia.
During his tenure with TD, Kevin opened up to the bank in 2009 about his mental illness. TD was so very supportive and coincidentally at that time the bank was in the process of setting up a national sub-committee to help address and improve the understanding by all employees about People with Disabilities, both visible and invisible. Kevin was requested to be part of this sub-committee given his experience with mental illness. Kevin and the sub-committee focused on Mental Health. Through Kevin's personal experience with clinical depression and anxiety, he and the committee initiated internal speaking engagements and blogs on his life with this illness, to help employees at all levels better understand mental illness, help break down barriers and the stigma behind mental illness, and be an advocate in this domain.
Kevin retired from TD in January 2019 and is focused on continuing to speak to companies and groups to help educate and continue to destigmatize mental illness.
Kevin's career with TD spanned 33 years. He is married to his wife Cheryl. They enjoy their soft coated wheaten terriers Rocky and Harley, are planning extensive travelling in their retirement and enjoy hiking, skiing and cycling.
Dr. Brynn Winegard
Dr. Brynn Winegard, Business-Brain Expert, DrBrynn.com, Toronto, Ontario
Plenary Speaker
Presentation Title • Unleash Your Inner Superwoman with Insights from Brainscience
Presentation Overview: Learn Dr. Brynn's 6 brain science secrets that will help you improve your leadership presence, become more influential, be more persuasive, and achieve your goals with greater confidence – this session is designed to help you unleash your inner superwoman! Using insights from cutting-edge brainscience, Dr. Brynn will give you better insight into how you can use your own brain more effectively to be collected, confident, and a stronger leader in all you do, at work and in life.
Profile:
Dr. Brynn Winegard is an award-winning professor, speaker, and writer. Brynn completed her formal education at the Schulich School of Business (MBA, PhD) in business and McMaster University in Neuroscience and Psychology. After over a decade in corporate marketing working for Pfizer Inc., Nestle Inc., and Johnson & Johnson Inc, Brynn has dedicated herself to speaking about 'Building a Better Business Brain' to groups, organizations and companies, stemming from her research, which combines neuroscience and management phenomena ('neuromanagement'). Dr. Winegard retains positions as Faculty at Schulich School of Business's Executive Education Centre, an Adjunct Professor at Ryerson University, and Executive Faculty in Guelph University's College of Business and Economics.
Brynn combines real-world experience with frontier research to deliver impactful programming that will be sure to please your audiences and elevate their daily business. Clients include: IEEE, CIBC, BMO, Scotiabank, Kruger Paper Products, Deloitte, Coca-Cola, Club Coffee, InfraReady Foods, CuBe Plastics, MROO, OASBO, OMERS, USAA, Brystol Myers Squibb, Novartis, Toyota, Canadian Blood Services, among more than 50 notable others.
District Vice President, TD Bank Group, Burlington, Ontario
Banquet Speaker
Profile:
After graduating with a Bachelor of Arts in Psychology from the University of Western Ontario, Yasmin took her passion for helping people to the financial services industry working with TD Bank Group since 2000. As a District Vice President with TD Canada Trust she currently leads a team of 18 Branches across the Niagara region who are dedicated to supporting individuals, families and businesses to achieve their financial dreams and goals.  Over the course of her career she spent half the time working in direct channels with TD Ameritrade, TD Canada Trust and TD Wealth Financial Planning ; and the other half working on Strategic Initiaives with global reach.  Her research interests are in client experience ; exploring client journeys and how digital can elevate the experience. On the volunteer front, Yasmin supports the Joseph Brant Hospital Foundation Young Professionals Network; a group of individuals inspiring philanthropy and is a Board Member for the TD Friends of the Environment Foundation. Yasmin is a part of TD Women in Leadership programs and is a dedicated mentor to many. As the DVP market leader in the Niagara Region, she is passionate about inspiring her teams to put a face to the Bank through volunteering and involvement in many grass roots local initiatives TD sponsors.
Nicole Zeni
Sr. Manager, Strategic Sourcing, McDonald's Restaurants of Canada Ltd., Toronto, Ontario
Plenary Speaker
Presentation Title • Communication and Advocacy
Presentation Overview:With increased desire for transparency around food and concerns about food affordability, communicating and engaging with guests about the quality, safety and sustainability is essential.
Profile:
Nicole Zeni is the Sr. Manager of Strategic Supply for McDonald's Restaurants of Canada Ltd.  She's held various supply chain positions during her thirteen year McDonald's career and was a key contributor to major initiatives including Coffee, All Day Breakfast and Beef Sustainability. Over her tenure, she's been recognized with numerous Canadian and global team awards. With twenty five years supply chain experience in food and health and beauty, Nicole has a genuine interest and appreciation for the commonalities across supply chains regardless of the product and industry as well as the uniqueness of each supply chain.