Our great lineup of speakers: Listen, Learn, Network & Grow!
Our speakers are industry leaders, market innovators and those passionate about creating success. We choose the best people from within and outside the ag industry to share their wisdom and knowledge with you.
Imagine the goals you could achieve with a little inspiration, and new and insightful skills from women who've "been there, done that" and are willing to share what they've learned along the way.
Meet the AWC EAST 2019 presenters that we have lined up to date:
Michael Bossy
President, Director of Marketing, Bossy Nagy Group Chartered Professional Accountants, Tillsonburg, Ontario
Workshop Facilitator
Workshop Presentation Title • The Most Important Word You Have Never Heard
Presentation overview: The Kolbe A Index identifies the striving instincts that drive your natural behaviors and the way you problem solve. It focuses on strengths and describes "MO", or, your mode of operation if free to be yourself.
Profile:
Mike Bossy has been a trusted business advisor to clients for over 30 years. Mike is a strategic thinker, and combines his extensive experience as a Chartered Professional Accountant with his numerous other business designations to provide a spectrum of valued services including accounting, trust and estate planning, taxation and business consulting, with particular expertise in intergenerational business and farm transitions. Mike is a graduate of Western University, Ivey School of Business and is a Chartered Professional Accountant. He is also a Certified Financial Planner® (CFP), Trust and Estate Practitioner (TEP), Certified Agricultural Farm Advisor (CAFA) and Kolbe™ Certified Consultant (KCC). Part of Mike's continuing education includes participation in The Strategic Coach® program.
In 2000, Mike was joined by Steve Nagy in forming Bossy Nagy Group Chartered Professional Accountants, a professional services firm that has grown to a team of over 50 members in three locations in South Western Ontario. Mike's extensive community involvement has included posts as president and director of the Tillsonburg District Chamber of Commerce, director of Tillsonburg Hydro, Chairman of Tillsonburg's Economic Development Committee, chair of the Reliving the Legacy capital campaign and mentor for Tillsonburg Junior Achievement. Currently, Mike is a national director for the Canadian Association of Farm Advisors. In 2011, he was selected Tillsonburg's Citizen of the Year and in 2012 was selected recipient of the Queen's Diamond Jubilee medal. Mike coached basketball for 20 years at Glendale High School and through the Ontario Basketball Association and is founder of Basketball Tillsonburg.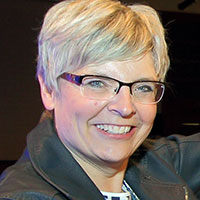 Dianne Finstad
Communications Specialist, Red Deer, Alberta
Master of Ceremonies
Profile:
Dianne Finstad is a communications specialist with a passion for all things agriculture. She spent over thirty years as a broadcaster and reporter, specializing in agriculture and rodeo coverage. Raised on a ranch in southern Alberta, she was able to combine her 4-H inspired interests in communication and ag into an interesting career, which now takes her to exciting places like Advancing Women in Agriculture conferences. Based in Red Deer, she began her career at CKRD-TV and radio. Her program 'This Business of Farming' was a staple in many rural households around the province. She also worked at KG Country Radio, providing daily farm reports and regular rodeo coverage. As well, Dianne has MC'd at events ranging from Farm Credit Canada Forums to national dairy shows. She works as both a show announcer and rodeo reporter at the Calgary Stampede. Her work has received numerous awards, and she is an honorary member of the Alberta Institute of Agrologists and the Alberta Human Ecology and Home Economics Association. Dianne is currently doing agriculture, rodeo, writing and speaking work across the country.
Debra Harrison
President, John Deere Canada, Deere and Company, Grimby, Ontario
Plenary Speaker
Presentation Title • What Would I Tell My Younger Self?
Presentation overview: I would like to share my journey from a very humble beginning. Over my career, there have been many ups and downs, but regardless of the situation there has always been something to learn that allowed me to grow. In some cases however, it takes time to appreciate the learning opportunity.
Profile:
As president of John Deere Canada ULC, a wholly-owned subsidiary of Deere & Company, Debra Harrison is responsible for directing the operations of the Canadian corporate office and providing strategic leadership for the company, working closely with the Board of Directors for John Deere Canada ULC, key management teams and functional area leads to establish long-range goals, strategic plans and policies. These functional areas include Corporate Compliance, Finance, Legal, Corporate Communications, Facilities Management, Human Resources, Citizenship, Business Analytics and Information Technology. Debra also serves as chairman of both the Board of Directors and the John Deere Foundation of Canada which provides funding to organizations that are focused on improving healthcare, empowering youth through education, and developing the communities in which John Deere is located. In her 39-year career with John Deere, Debra has worked in a variety of areas including Product Engineering, Enterprise Strategic Quality and Production Systems and in Factory-based operations. These roles have allowed her to work in both Canada and the United States and have taken her to locations in Europe, Asia and South America where she had had the opportunity to meet new people and learn about different cultures and practices from around the world. Debra holds a BSc in Engineering from McGill University in Montreal, Quebec and is a current member of the Professional Engineers Ontario (PEO). In her spare time, she enjoys cycling, travelling with her daughter and spending time with friends and family.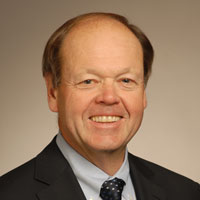 John Scott
Chair, Canadian Agri-Food Policy Institute, Niagara on the Lake, Ontario
Plenary Speaker
Presentation Title • Consumer Mega Trends Setting the Pace for our Food Chain
Presentation Overview: An insightful glance at the trends which are driving significant change in the food supply chain from retail and food service to the farm gate. Included is a discussion on the implications the new reality holds for the industry.
Profile:
John F.T. Scott is an economist, consultant and speaker specializing in the Food Distribution and Retail sector.  He currently analyzes strategies and frequently writes and speaks on Canada's food industry to various groups and companies.   He is renowned for weaving the preferences of the evolving consumer into the evolving dynamics of the industry.
John is Chair of both the Board of Directors of the Canadian Agri Food Policy Institute (CAPI) and the Board of Governors of Niagara College.  He is Past Chair of the acclaimed Vineland Research and Innovation Centre and a former Director of the Alberta Livestock and Meat Agency (ALMA).   He currently serves on the Board of Platform Genetics Inc. as well as the North American Advisory Board of Monaghan Mushrooms.
John is one of only three individuals who have received both of the highest recognitions in Canada's retail food industry – the Golden Pencil (Hall of Fame) and the Spirit of the Independent Award (Inspiration to Entrepreneurs in the Sector).
Dr. Brynn Winegard
Dr. Brynn Winegard, DrBrynn.com, Toronto, Ontario
Plenary Speaker
Presentation Title • TBA
Presentation Overview: TBA
Profile:
Dr. Brynn Winegard is an award-winning professor, speaker, and writer. Brynn completed her formal education at the Schulich School of Business (MBA, PhD) in business and McMaster University in Neuroscience and Psychology. After over a decade in corporate marketing working for Pfizer Inc., Nestle Inc., and Johnson & Johnson Inc, Brynn has dedicated herself to speaking about 'Building a Better Business Brain' to groups, organizations and companies, stemming from her research, which combines neuroscience and management phenomena ('neuromanagement'). Dr. Winegard retains positions as Faculty at Schulich School of Business's Executive Education Centre, an Adjunct Professor at Ryerson University, and Executive Faculty in Guelph University's College of Business and Economics.
Brynn combines real-world experience with frontier research to deliver impactful programming that will be sure to please your audiences and elevate their daily business. Clients include: IEEE, CIBC, BMO, Scotiabank, Kruger Paper Products, Deloitte, Coca-Cola, Club Coffee, InfraReady Foods, CuBe Plastics, MROO, OASBO, OMERS, USAA, Brystol Myers Squibb, Novartis, Toyota, Canadian Blood Services, among more than 50 notable others.