Imagine how your life could be enhanced with a little inspiration, a bit of pertinent information, a few tips on how to handle issues and having the opportunity to network and share stories with like-minded women!
Meet the AWC WEST 2022 presenters to date!
Jeanne Beker
Iconic Fashion Journalist & Host, Toronto, ON
Presentation title • Fireside Chat with Jeanne
Presentation overview: Join Dianne Finstad for a discussion with Jeanne Beker, one of the most influential women in the fashion industry – in Canada and around the world. From launching a television series to editor-in-chief, authoring 5 books, creating her own fashion lines, receiving numerous awards, named to the Order of Canada and Canada's Walk of Fame to name only a few distinguished titles, Jeanne has a message for each one of us.
Profile:
Jeanne Beker is one of the most influential women in the fashion industry—in Canada and around the world. A long-time celebrity, Jeanne speaks on how she rose to the top of arts and culture media as the iconic host of TV's Fashion Television, along with what it takes to be a successful entrepreneur.
Jeanne started her professional "show biz" career when she was just 16, when she moved to New York to study acting, and to Paris to study mime. In 1975, she found herself in St. John's, Newfoundland, covering arts for CBC radio.
Three years later, Jeanne landed a job at Toronto's CHUM radio. In 1979, she helped launch the ground-breaking series The New Music, on CITY TV, which she co-hosted for six years. A founding member of MuchMusic, Jeanne continued to trail-blaze, and in 1985, launched the legendary Fashion Television, which she presented on in over 130 countries for 27 years.
A seasoned newspaper columnist and features writer, Jeanne was editor-in-chief of FQ and SIR magazines from 2003 to 2008; she has authored five books; and she is a frequent guest on myriad lifestyle shows.
Jeanne has been at the creative helm of numerous fashion lines under her own eponymous label, and since 2015, has been Style Editor for The Shopping Channel, where she currently hosts the series "Style Matters".
Active with several charitable organizations, Jeanne received an honourary doctorate from St. Mary's University, and is the recipient of numerous awards, including a Special Achievement Award from the Canadian Academy of Cinema and Television, and a Crystal Award from Toronto Women in Film and Television.
In 2014, Jeanne was named to the Order of Canada, and she was inducted into the American Marketing Association's Hall of Legends in 2015. She also received a star on Canada's Walk of Fame in 2016, and an honorary doctorate from OCAD University in 2018.
Michelle Cederberg
Health and Productivity Expert, Live Out Loud, Inc., Calgary, AB
Presentation title • Energized for Excellence
Presentation overview: This engaging and funny keynote helps you recognize your own excellence in a bigger way, then shares strategies to boost energy, focus, and confidence so you can show up as a leader and strive for success in all you do.
Profile:
For over 17 years, Certified Speaking Professional Michelle Cederberg has captivated audiences across North America with her empowering and humorous messages about how to set worthwhile goals, get energized for success, and live a bigger life.
An in-demand speaker, author, coach and consultant, she believes that personal and professional success is directly influenced by how well we harness the physical, mental and emotional capacity we each have within us. She helps people boost that capacity, so they gain clarity, build confidence, and get the discipline to create the life and career they want.
She holds a Masters in Kinesiology, a BA in Psychology, a specialization in Health and Exercise Psychology, is a Certified Exercise Physiologist, and a Certified Professional Co-Active Life Coach. She truly combines mind, body and practicality to empower change.
Michelle is the author of three books. Her newest book The Success-Energy Equation, debuted as a bestseller in October 2020.
Roxanne Derhodge
Mental Health and Wellness Specialist, Roxanne Derhodge Consulting, Niagara Falls, ON
Presentation title • Mentally Resilient Leadership: Using Post-Traumatic Growth to Navigate Modern Day Stress
Presentation overview: Using Roxanne's Mentally Resilient Leadership Training, attendees will leave knowledgeable and equipped to effectively deal with resiliency. They will have the capacity to build better relationships and thrive in a healthier workplace.
Workshop title: Leadership Awareness Strategies: ROR +
Workshop overview: The ROR + Program is designed to elevate a leader's ability to enhance their capacity to connect with others. A leader's understanding of their legacy story enables them to create their values alignment within their culture.
Profile:
Roxanne Derhodge, M.Sc.ED.  is a registered psychotherapist specializing in individual, couples and family therapy with over 20 years of experience. A graduate of the University of Toronto and the University of Guelph specializing in Cognitive behavioural and family systems therapy. She was an Executive with the Largest Health and Wellness firms in North America for 15 years. She was able to utilize her expertise as a Psychotherapist to assist companies with their corporate strategies in Health and wellness. In addition to being a prominent Psychotherapist and Corporate Health and Wellness Executive, as a BIPOC leader, Roxanne has written an Amazon Best Selling Book "A Therapist Insider's Guide on Relationships. She is a professional member of the Canadian Association of Professional Speakers (CAPS) as well as a contributing member to the Forbes Executive Council. Roxanne speaks internationally to companies on mental health and wellness and what it takes to Create the Space for Positive Healthy Changes in their Organization. When leaders start to focus on "Return on Relationships", the companies' ROI takes care of itself.
Katelyn Duban
Farmer, Duban Farms Ltd. Entrepreneur, Wild Rose Farmer Inc., Host, The Rural Woman, Coalhurst, Alberta
Presentation title • Own Your Story: Inspiring Tales from Rural Women
Presentation overview: Katelyn Duban, host of The Rural Woman Podcast, shares the invaluable lessons learned from 100+ interviews with Rural Women and how to own your story in Agriculture.
Workshop session details to come!
Profile:
Katelyn Duban, born and raised in Southern Alberta, Canada married into agriculture in 2016. At the time, it was not her intention to be an active member of the farm but quickly found a passion for the farm life. Katelyn continues to develop her skills as a grain farmer on and off of the field.
As an avid podcast listener, Katelyn found herself searching for a podcast that shared the important roles women in agriculture provide for the industry. When she could not find a podcast that met her criteria she began working on her own podcast. In the spring of 2019 she launched The Rural Woman Podcast.
Since then, Katelyn has shared the stories of incredible women involved in all parts of agriculture from farming, ranching, homesteading, agribusiness and beyond. With over a quarter of a million downloads from countries all around the world. Katelyn continues to share the importance of Women in Agriculture while sharing her own story through social media under the handle @WildRoseFarmer.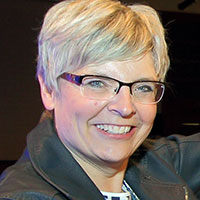 Dianne Finstad
Communications Specialist, Red Deer, Alberta
Master of Ceremonies
Profile:
Dianne Finstad is a communications specialist with a passion for all things agriculture. She spent over thirty years as a broadcaster and reporter, specializing in agriculture and rodeo coverage. Raised on a ranch in southern Alberta, she was able to combine her 4-H inspired interests in communication and ag into an interesting career, which now takes her to exciting places like Advancing Women in Agriculture conferences. Based in Red Deer, she began her career at CKRD-TV and radio. Her program 'This Business of Farming' was a staple in many rural households around the province. She also worked at KG Country Radio, providing daily farm reports and regular rodeo coverage. As well, Dianne has MC'd at events ranging from Farm Credit Canada Forums to national dairy shows. She works as both a show announcer and rodeo reporter at the Calgary Stampede. Her work has received numerous awards, and she is an honorary member of the Alberta Institute of Agrologists and the Alberta Human Ecology and Home Economics Association. Dianne is currently doing agriculture, rodeo, writing and speaking work across the country.
Sandip Lalli
Former Executive Vice President and Chief of Staff to the President and CEO at Nutrien; Independent Board Director and Chair of Audit Committee, Calgary, Alberta
Presentation title • Core Values and Future of Women in Agriculture
Presentation overview: Understanding your core values to navigate your career is essential to making any contribution. For women in agriculture to carve out careers that move the industry forward and deliver value in each interaction.
Profile:
Sandip brings over 15 years in C-Suite senior management experience developing and driving corporate priorities and strategy, driving M&A, and working cross-functionally across value chains. She has worked globally across 36 countries and has strong experience with the agriculture sector being previously with Cargill Incorporated for over a decade. Sandip also brings a background in environmental, social, and governance (ESG), plant operations, supply chain management, global regulatory, internal controls, financial risk management and stakeholder relations.
Sandip holds an Institute of Corporate Directors (ICD.D) designation, a Doctorate and Master's degrees in Business Administration and is a published thought leader on sustainability and purpose driven business. Sandip was granted a Fellow of Chartered Professional Accountant (FCPA) for achievements in her career as a Chartered Professional Accountant.
Sandip is an advisory panel member with Diversity in Sustainability (DiS) providing strategic advice, representing the wisdom of many lived and professional experiences to help DiS build an intersectional and intergenerational approach to their organization. She is a member of the Board of Directors of the Royal Canadian Mint.
Judy Riege
Connector – Coach – Educator, Connected Leaders, Calgary, Alberta
Presentation title • Leadership is a mindset, not a position:  let's get fierce and fired up about the future.
Presentation overview: The future of leadership is fast, fired up and human:  clarity, communication and connection will be key to our shared success.  Our beliefs and behaviours of "niceness" will put the brakes on our ability to feel the power of acceleration and to realize just how much power we have to drive forward, be fierce and build confidence and commitment in ourselves and others to create value and realize results.
Workshop title • Connected Conversations:  from fables and frustration to clarity, commitment and confidence
Presentation overview: Communication is the connective tissue of businesses, teams and relationships.   Since none of us were born with the superpower ability to read minds, our ability to make visible the thoughts, ideas, opinions and needs in conversation is a critical skill that will keep you out of a perpetual cycle of frustration and unhealthy conflict or drama and into the flow of "7 levels of communication".
Profile:
Judy is a role model, a rebel, and real.  She is a connector, a coach, and an educator.  Judy is in the business of elevating leadership thinking and behavior from the classroom to the boardroom. She has deep experience in the art and neuroscience of emotional intelligence (EQ) and its impact on communication, curiosity, decision making, relationships, results, and resiliency in individuals, teams, and organizations.
Judy works with people of all ages helping them become the leader they were meant to be: educators and schools, Olympic and Paralympic coaches, athletes and sport leaders across Canada's sport system as well as entrepreneurs and corporate executives across North America.
She is on a mission to change the world by creating CONNECTED leadership thinking and behaviour in our schools, sports, and workplaces.  She wants to inspire today's leaders to up their game and create places for the next generation to learn, belong, grow, practice, play, AND make tomorrow even better than we can imagine.
Lauren Sergy
Communication Expert, Up Front Communication, Edmonton, Alberta
Presentation title • Commanding Confidence: How Women Can Build and Leverage Leadership Presence
Presentation overview: Leadership Presence is that "X Factor" that helps people command the attention and confidence of those they're interacting with. In this session, you will learn the building blocks of Leadership Presence and how to strategically cultivate and use it in your working life.
Profile:
Communication expert Lauren Sergy has helped thousands of people become more effective leaders by developing critical communication skills such as persuasion, public speaking, and executive presence. She has worked with clients and audiences in Canada, the US, the UK, and Europe including Cargill, KPMG, 3M, T-Mobile, Grant Thornton, and many more. Lauren teaches business communication courses at the University of Alberta. Her first book, "The Handy Communication Answer Book," was featured on Library Journal's Best Reference Books of 2017 list.  Her latest book, "UNMUTE! How to Master Virtual Meetings and Reclaim Your Sanity" is now available via all major online booksellers. You can learn more about her work at https://LaurenSergy.com.
Jane C. Schuette
Speaker, Jane Schuette and Associates, Inc., Watertown, Minnesota
Presentation title • The Power to Choose: Breaking the Myths of Personality
Presentation overview: We have the power to choose our values, attitudes, and behaviors. Too often we relinquish the power to choose by saying, "That's just who I am!" Frequently, we are simply falling victim to childhood myths, misguided messages from others, or personality assessments.
Profile:
Jane is a high energy, award-winning speaker and author. She melds humor with a collection of the most effective practices and tools designed to educate, energize, and inspire you to manage stress. Her audience is diverse – from global corporation employees to educators, from U.S. Armed Forces to women inmates. Jane has an infectious enthusiasm for helping audiences build brilliance and sail through the stormy seas of stress! Her first book, Building Your Brilliance: Move from Stressful Survival to Joyful Living, features a toolkit to help you manage stress and uncover your brilliance! Her series of Building YOUR Brilliance 5-Minute Journals helps you find peace within the storms of stress and navigate to brilliance in just 5 minutes a day. The original 5-minute journal is designed for your personal life, the Educator Reflection Journal is for teachers and school administrators, and The Accountable Leader is for people working in business organizations. Jane lives in rural Minnesota with her husband and is delighted to have her children and grandchildren nearby for plenty of play time in the exhilarating Minnesota seasons.