Our great lineup of speakers: Listen, Learn, Network & Grow!
Our speakers are industry leaders, market innovators and those passionate about creating success. We choose the best people from within and outside the ag industry to share their wisdom and knowledge with you.
Imagine the goals you could achieve with a little inspiration, and new and insightful skills from women who've "been there, done that" and are willing to share what they've learned along the way.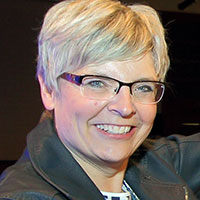 Dianne Finstad
Communications Specialist, Red Deer, Alberta
Master of Ceremonies
Profile:
Dianne Finstad is a communications specialist with a passion for all things agriculture. She spent over thirty years as a broadcaster and reporter, specializing in agriculture and rodeo coverage. Raised on a ranch in southern Alberta, she was able to combine her 4-H inspired interests in communication and ag into an interesting career, which now takes her to exciting places like Advancing Women in Agriculture conferences. Based in Red Deer, she began her career at CKRD-TV and radio. Her program 'This Business of Farming' was a staple in many rural households around the province. She also worked at KG Country Radio, providing daily farm reports and regular rodeo coverage. As well, Dianne has MC'd at events ranging from Farm Credit Canada Forums to national dairy shows. She works as both a show announcer and rodeo reporter at the Calgary Stampede. Her work has received numerous awards, and she is an honorary member of the Alberta Institute of Agrologists and the Alberta Human Ecology and Home Economics Association. Dianne is currently doing agriculture, rodeo, writing and speaking work across the country.