Our great lineup of speakers: Listen, Learn, Network & Grow!
Our speakers are industry leaders, market innovators and those passionate about creating success. We choose the best people from within and outside the ag industry to share their wisdom and knowledge with you.
Imagine the goals you could achieve with a little inspiration, and new and insightful skills from women who've "been there, done that" and are willing to share what they've learned along the way.
Erin Armstrong
Winnipeg, Manitoba
Presentation Title • Thoughts at the Far End of a Diverse Career
Presentation Overview: Dr. Erin Armstrong has spent more than 30 years working in various sectors of agriculture in roles ranging from lab tech to research scientist to manager to CEO, and for employers ranging from a university to private companies to industry associations. Erin has also served on numerous committees and boards of directors. She will share her thoughts and insights gained from these multiple roles while looking forward to what's yet to come.
Profile:
Erin Armstrong has had a long career in agriculture in Canada. She currently holds (on a part-time basis) the position of Executive Director of the Barley Council of Canada (BCC). In this role she is responsible for oversight of the organization, implementation of the strategic plan and member engagement.
Prior to joining BCC in July, 2019, Erin worked for Canterra Seeds for 11 years as Director of Industry & Regulatory Affairs, after first serving as Director of Research & Product Development. She also served for two years as the inaugural CEO of Limagrain Cereals Research Canada (LCRC), a joint venture cereal breeding company established by Limagrain and Canterra Seeds, launched in 2015.
Previous to her time in the seed industry, Erin spent 14 years in the malting and brewing industry as President and CEO of the Brewing and Malting Barley Research Institute (BMBRI) and in several positions with Canada Malting Co. Limited.
Erin currently sits on the board of Canada Grains Council (representing BCC). She formerly sat on the board of the Canadian Seed Trade Association (CSTA) and chaired the Minister's Advisory Committee to the Commissioner of the Plant Breeders' Rights Office. In addition, she has been a member of numerous committees and working groups during her career in executive and chair positions. Erin holds a Bachelor of Science in Agriculture from the University of Manitoba and a PhD in Biochemistry from the University of Ottawa.
Cindy Benning
Group Director, Industrial & Quality Operations, Vetoquinol S.A., London, Ontario
Presentation Title • My Career Path: A Journey of Self-Discovery
Presentation Overview: Cindy will discuss how she went from being an introverted science nerd, only focussing on what is black and white, to a person who believes strongly in transformational leadership and the importance of self-discovery.  This change may seem like an obvious progression of a normal career path but Cindy's story is much more complex.
Profile:
Cindy Benning grew up in rural Ontario with her parents and 3 sisters, and has always had a natural aptitude for math and science. She started her career in 1984 working as a lab technician in a small human pharma company and since 1993 has progressively increased her level of responsibility in various roles within the Animal Health Industry. In 2018 she became the first North American, female member of the French Animal Health Company, Vetoquinol's Executive team, with her appointment as Group Director of global manufacturing and quality operations. Through dedication to lifelong learning, Cindy has been able to obtain a Bachelor's degree in Science, an Executive MBA, as well as post-grad certification in Executive Coaching, all while being employed full-time. The progression of her career from one based on hard skills to one that relies strongly on soft skills, is an example of her lifelong vision – to be a positive influence on as many people as possible.  Cindy believes strongly in the power of self reflection, and her mission is to be a living example of what being true to your authentic self means, always striving to align her actions with her values. She plans to develop her personal company, Dragonfly Insights in the coming years, as a transition from the busy transcontinental global role she has now, to one where she can devote her time fully, to the development of others.
Karen Briere
Reporter, Western Producer, Regina, Saskatchewan
Presentation Title • Women in Ag Media (Panel)
Presentation Overview: Three ag media journalists (Lisa Guenther, Editor of Canadian Cattlemen, Laura Rance, Vice President of Content at Glacier FarmMedia, and Karen Briere, Reporter at The Western Producer) share their perspectives on ways the voice of women in agricultural media can be increased and suggestions on how women in agriculture can reach out on media channels to advocate to consumers.
Profile:
Karen Briere was born and raised in Canora, Sask. where her family had a small mixed farm. She decided at an early age that writing was her calling, and after high school headed to the University of Regina where the School of Journalism had just opened. She graduated in 1984, worked at other print media outlets for a few years, and in 1993 joined The Western Producer as their Regina correspondent.
Her base in the Regina Legislature Press Gallery has given her the opportunity to cover agriculture and rural life from all perspectives. She's covered numerous provincial and federal election campaigns, written about farm policy and walked plots during field days. She has covered tragedies and celebrations, boring meetings and lively ones, and been around long enough that she now interviews the adult children of people she interviewed a generation ago. She has three children and five grandchildren and a wide variety of interests outside her work.
Vicki Brisson
MSc Student, Department of Animal Biosciences, University of Guelph, Embrun, Ontario
Presentation Title • Start Before You're Ready!
Presentation Overview: As a young female in agriculture and sciences, Vicki shares how setting goals, shifting her mindset, and taking on her journey one step at a time has opened doors beyond what she could have imagined.
Profile:
Vicki is a proud francophone who grew up on a dairy farm in Eastern Ontario. For as long as she can remember, she loved helping out on the family farm and had a passion for animal health. As an active 4-H member in Russell County, she was elected on the executive committee of many clubs, attended provincial leadership camps, acted as a youth leader for dairy, poultry, and woodworking clubs, competed in the provincial Go for the Gold competition, and was chosen to be one of the six 2016 4-H Ontario Youth Ambassadors.
Initially pursuing her post-secondary education at the University of Guelph in the hopes of becoming a large animal veterinarian, through her major in animal sciences and her summer as a Sales Consultant Intern with Cargill Animal Nutrition, Vicki discovered an appreciation for animal nutrition and research. She is currently completing her Masters degree in the Department of Animal Biosciences at the University of Guelph and aims to return to the dairy industry after graduation. She is a lifelong learner and aims to better herself through various life experiences and challenges, and therefore in her free time, she enjoys running, biking, reading and volunteering.
Lorna Callbeck Cross & Cassie Josephson
Lorna Callbeck Cross, President & Principal Facilitator, People Things Consulting, Saskatoon, Saskatchewan
Cassie Josephson, Director & Facilitator, People Things Consulting, Saskatoon, Saskatchewan
Presentation Title • Your Farm's Greatest Asset: Taking Care of You
Presentation Overview: You are your operation's greatest asset – let's learn how to take care of you. Learn about self-care and setting intentions while Lorna and Cassie share ideas and stories from their journey through mental illness and agriculture.
Profile • Lorna Callbeck Cross:
Lorna Callbeck Cross is a graduate of the Master of Arts in Global Leadership, from Royal Roads University in Victoria. Lorna is President and Founder of People Things Consulting, with 35 years proven expertise, as an employee and consultant, supporting corporations, not-for-profit organizations, educational institutions, and individuals. Lorna is very proud of her rural roots, growing up on a mix cattle grain operation in northwest Saskatchewan. Lorna is committed to increasing mental health education and finding ways to encourage these much needed conversations.
Profile • Cassie Josephson:
Cassie Josephson is a recent graduate from the University of Saskatchewan, with a Bachelor of Science degree in AgriBusiness. After successful sales roles in the agriculture industry, she joined People Things Consulting as Director and Facilitator. Cassie is passionate about breaking barriers and stigmas around mental health, to help create safe, inclusive communities. Throughout her own educational and personal journey, Cassie has seen first-hand the effects of lack of education and stigma surrounding mental health. People Things Consulting is a social purpose organization focused on strengthening psychological health and wellness, and culturally competent practices, leading to increased diversity and inclusion for all.
Michelle Cederberg
Health and Productivity Expert, Professional Coach, Calgary, Alberta
Presentation Title • The Success-Energy Equation
Presentation Overview: In an age of disengagement, distraction and fatigue, it seems how we work isn't working. We're busy, stretched and stressed, and in the fight to get it all done, we lose sight of what's truly important to us in work and life. In this thought-provoking session, Health and Productivity Expert Michelle Cederberg shares an equation for success that will make you think, laugh and take action on your dreams. Michelle will guide us through how to tap into a well of energy that will fuel every area of your life and how to slow down and learn to listen to your body to gain clarity, work better and reach your goals sooner.
Profile:
For over 15 years, Certified Speaking Professional Michelle Cederberg has captivated audiences across North America with her empowering and humorous messages about how to set worthwhile goals, get energized for success and live a bigger life.
An in-demand speaker, author, coach and consultant, she believes that personal and professional success is directly influenced by how well we harness the physical, mental and emotional capacity we each have within us. She helps people boost that capacity, so they gain clarity, build confidence and get the discipline to create the life and career they want.
She holds a Masters in Kinesiology, a BA in Psychology, a specialization in Health and Exercise Psychology, is a Certified Exercise Physiologist, a Certified Professional Co-Active Life Coach, and an ORSC-Trained Team Coach. She truly combines mind, body and practicality to empower change.
Michelle is the author of three books. Her newest book, The Success-Energy Equation, will be released in fall of 2020.
Dr. Sylvain Charlebois
Director, Agri-Food Analytics Lab, Dalhousie University, Dartmouth, Nova Scotia
Presentation Title • COVID-19 Happened, Now What?
Presentation Overview: COVID-19 had a huge impact on the agri-food sector. This session will explore current market trends and the consequences and opportunities following this crisis.
Profile:
Dr. Sylvain Charlebois is a Professor in food distribution and policy in the Faculties of Management and Agriculture at Dalhousie University in Halifax. He is also the Senior Director of the Agri-food Analytics Lab, also located at Dalhousie University. He is as well the former Dean of the Faculty of Management at Dalhousie University. Before joining Dalhousie, he was affiliated with the University of Guelph's Arrell Food Institute, which he co-founded. While at the University of Guelph, he was also the Associate Dean of Research for the College of Business and Economics.
Known as "The Food Professor", his current research interest lies in the broad area of food distribution, security and safety. He is one of the world's most cited scholars in food supply chain management, food value chains and traceability.
He has authored five books on global food systems, his most recent one published in 2017 by Wiley-Blackwell entitled "Food Safety, Risk Intelligence and Benchmarking". He has also published over 500 peer-reviewed journal articles in several academic publications. Furthermore, his research has been featured in several newspapers and media groups, including The Economist, the New York Times, the Boston Globe, the Wall Street Journal, Washington Post, BBC, NBC, ABC, Fox News, Foreign Affairs, the Globe & Mail, the National Post and the Toronto Star.
Dr. Charlebois sits on a few company boards, and supports many organizations as a special advisor, including some publicly traded companies. He also has done some work on social licensing, which include public trust assessments and risk communication evaluations. Charlebois is also a member of the Scientific Council of the Business Scientific Institute, based in Luxemburg. He conducts policy analysis, evaluation, and demonstration projects for government agencies and major foundations focusing on agricultural policies and community development both in Canada and in development settings. Dr. Charlebois is a member of the Global Food Traceability Centre's Advisory Board based in Washington DC, and a member of the National Scientific Committee of the Canadian Food Inspection Agency (CFIA) in Ottawa. He has testified on several occasions before parliamentary committees on food policy-related issues as an expert witness. He has been asked to act as an advisor on food and agricultural policies in many Canadian provinces, in the United States, Brazil, Austria, Italy, France, Belgium, China, Great Britain, Finland and the Netherlands.
Tish Collins
Chief Executive Officer, Associated Country Women of the World, London, UK
Presentation Title • 100 Ways You Can Make a Difference
Presentation Overview: The reality of sustainable development in the daily lives of rural women can be challenging. This is a look at 100 ways you can make a difference in your every day life, and benefit your community.
Profile:
Tish Collins is the Chief Executive Officer of the Associated Country Women of the World, one of the largest rural women's organisations globally. Founded in 1929, ACWW exists to amplify the voices of rural women, so that the problems they face and the solutions they raise are heard and acknowledged by international policy-makers and legislators. Rural women are the backbone of families, of communities, of nations, but they are often a silent support, adapting to change and tragedy with comparative ease. They bear the burden of conflict, they go unheard in legislation, and they remain unprotected and unsupported. ACWW exists to change that.
Having trained in the UK and Germany as an Agricultural Economist, Tish worked as Principal Secretary of the Intensive Livestock Division of the National Farmers' Union. Latterly, she has spent more than 30 years running charities. Over the past six years at ACWW she has represented the organisation at the United Nations, the Food and Agricultural Organization of the UN (FAO), and the UN Educational, Scientific, and Cultural Organization (UNESCO), and worked with grass roots members in the South Pacific, Russian Federation, and across Europe. Tish holds a Bachelor's degree in Economics and Economic History and an MSc in Agricultural Economics. She undertook post-graduate research comparing the agricultural policies and structures of the Council for Mutual Economic Assistance and the European Union at the University of Rostock, Germany. During her down time, she enjoys crafting and folk dancing.
Cherie Copithorne-Barnes
CEO

,

CL Ranches Ltd.

, Calgary, Alberta
Presentation Title •
How to Be Incorrect in a Politically Correct World
Presentation Overview: All too often, we as producers are made to feel that we are the bad guys in this world of political correctness. History has shown me that we can stand up for what we do and what we believe in as long as it goes with a little courage.
Profile:
Cherie is a 4th generation rancher and CEO of CL Ranches Ltd. located in Jumping Pound, just west of Calgary, AB. CL Ranches Ltd. is a cow/calf and backgrounding operation which also grows its own feed supply. Cherie is the past chair of the Canadian Roundtable for Sustainable Beef. Cherie sits on the advisory boards of the Rangeland Research Institute for the University of Alberta, the Strategic Engagement Group for Olds College as well as the WA Ranch Advisory for the University of Calgary. She is also Director on the Board of the Calgary Stampede where the Agri-Food Committee is just one of many groups she is involved with. Cherie and her husband Tim spent 7 years ranching in Uruguay where they were involved in a full beef value chain from the ranch, to one of the first feedlots, and finally to the packing plant where meat was then sold into the EU and North America.
Shelby Corey
Development Officer, 4-H Saskatchewan; Municipal Councillor, RM of Montrose; President, Bar N Ranch & Cattle Co. and Bar N Ghost Pine Ranch Ltd.
Presentation Title • Three Things to Know to Avoid Burnout
Presentation Overview: As women, and especially women in agriculture, often the workload of balancing life on the farm, kids, careers and everything else can be overwhelming. In this presentation, Shelby shares her experiences on how she manages to find balance, while providing a few tips to help others do the same.
Profile:
Growing up on a cattle ranch in southern Alberta, Shelby always knew agriculture was her passion. After high school, Shelby attended the University of Saskatchewan and obtained a bachelors degree in Agribusiness. Today, Shelby and her husband, Cole, run their own cattle operation near Saskatoon, Saskatchewan alongside Cole's family while Shelby continues to be involved on her family ranch in Alberta with her mom and two younger sisters.
She also works as the Development Officer for 4-H Saskatchewan, serves as a Municipal Councillor for her local government, and runs a small beef business, all while chasing around her two amazing kids, ages 4 and 5. In her spare time, Shelby is an avid gardener and competitive barrel racer. Shelby truly enjoys connecting with producers, consumers and all levels of government to help support and further the agriculture industry.
Carrie Ann Crozier
General Manager Operations, CN, Edmonton, Alberta
Presentation Title • Staying True
Presentation Overview: Contributing to a diverse workplace and staying true to your values.
Profile:
Carrie currently is the General Manager of Operations for the Yellowhead Division which covers CN's Network across Alberta and the majority of Saskatchewan. The Yellowhead Division is the most customer dense territory which originates an influential portion of CN's growth and economic position. The Yellowhead Division represents greater than 20% of CN's daily Gross Tonne Miles that move across the system.
Carrie has been with CN for 20 years and has a very diverse background of experience. She has held influential positions with progressive responsibilities in Intermodal, Supply Chain, Network Operations as well as Transportation Operations. Her career has taken her across CN's network – from Halifax-Montreal-Toronto-Winnipeg-Edmonton-Vancouver-Prince George and Chicago. Some key accomplishments have been the initiation of service initiatives with various Intermodal Ports and Bulk Commodity Terminals and Customers. She was instrumental in the evolution of CN's scheduled grain plan as well as the growth of many of the supply chains including crude by rail, propane export as well as western Canadian coal.
Carrie is customer and supply chain minded. She is committed to safety and the development of strong, diverse teams.
Kelly Dobson
Founder, Performance Coach LeaderShift Inc. and the National Farm Leadership Program, Farifax, Manitoba
Presentation Title • Increasing Personal and Professional Performance in Ag
Presentation Overview: Kelly will share what LeaderShift has learned about the state of leader effectiveness in ag and its implications for individuals, families and businesses who are focused on growth and success.
Profile:
Kelly Dobson is an active fourth generation farmer who is committed to developing leader performance in agriculture and family businesses. Kelly takes his decades of farm and industry experience and adds his lifelong passion for leadership to support agriculture leaders to improve their performance through LeaderShift Inc. Accepting that there are no quick fixes to increasing leader effectiveness, Kelly developed the LeaderLab to network, train and support clients wherever they live and work. His commitment to developing the LeaderShift system has evolved with the partnership of Farm Management Canada into the National Farm Leadership program. It continues to integrate leader assessment, positive psychology, family systems and leadership research to provide comprehensive development for Canada's current and future ag space leaders. Kelly holds a Masters in Leadership and an Executive Coaching certification from Royal Roads University, and he is a member of the Canadian Association of Farm Advisors. When he is not farming, he contributes to Country Guide Magazine and provides workshops across Canada.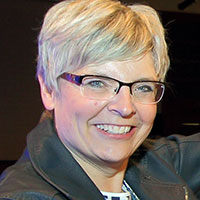 Dianne Finstad
Communications Specialist, Red Deer, Alberta
Master of Ceremonies
Profile:
Dianne Finstad is a communications specialist with a passion for all things agriculture. She spent over thirty years as a broadcaster and reporter, specializing in agriculture and rodeo coverage. Raised on a ranch in southern Alberta, she was able to combine her 4-H inspired interests in communication and ag into an interesting career, which now takes her to exciting places like Advancing Women in Agriculture conferences. Based in Red Deer, she began her career at CKRD-TV and radio. Her program 'This Business of Farming' was a staple in many rural households around the province. She also worked at KG Country Radio, providing daily farm reports and regular rodeo coverage. As well, Dianne has MC'd at events ranging from Farm Credit Canada Forums to national dairy shows. She works as both a show announcer and rodeo reporter at the Calgary Stampede. Her work has received numerous awards, and she is an honorary member of the Alberta Institute of Agrologists and the Alberta Human Ecology and Home Economics Association. Dianne is currently doing agriculture, rodeo, writing and speaking work across the country.
Sarah Foster
President, Senior Seed Analyst, 20/20 Seed Lab Inc., Nisku, Alberta
Presentation Title • Never in my wildest dreams did I ever expect this!
Presentation Overview: My journey and experiences as a seed analyst over the past 40 years. Navigating through changes and overcoming challenges as a woman in business.
Profile:
Sarah has been involved in the seed industry and agriculture since the late 1970's. She studied at the National Institute of Agricultural Botany in Cambridge, England focusing on seed testing and agricultural botany.  Her work experience includes seven years with Sharps Seed International in the United Kingdom, later to become owned by Advanta, Canada. Then later immigrating to Canada in 1984 she was employed for five years with The United Grain Growers in Edmonton Alberta.
Sarah started 20/20 Seed Labs Inc. in 1989 as the first fully independent and completely accredited seed testing laboratory in Canada.  In 2007, 20/20 Seed labs Inc. was initiated and registered as  the first private laboratory in Canada to become a recognised IISTA accredited laboratory.
20/20 Seed Labs Inc has grown over the years to provide testing services in Nisku Alberta, St Norbert Manitoba and Chillan Chile. 20/20 Seed Labs Inc. offers a wide variety of services including seed quality, seed health and plant diagnostics and analysis on a wide range of crop kinds. 20/20 Seed Labs Inc. also offers molecular testing, seed grading, sampling services and crop inspection services in Canada and in Chile.
20/20 Seed Labs Inc. recently celebrated 30 years in the industry and is proud to be included as an award winner in the Business Edmonton and Business Calgary magazine. Sarah was also chosen as an award business leader in the both magazines for agriculture.
We are honoured to be service providers for individual growers, seed cleaning facilities, crop protection companies and multinational seed companies.
Sarah works extensively with government, farmers and industry within agriculture and is one of the most experienced seed analysts in North America, having completed accreditation for the United Kingdom, United States and Canada. She is regularly invited to train and teach as well as offering grading courses to the Authorized establishment personnel; recently Sarah was invited and is now an advisor on the Board of Directors of the Alberta Seed Growers association.
Sarah was the recipient of the Canadian Seed Trade Association 2013 Seed Achievement award and has held various executive positions with the Commercial Seed Analysts Association of Canada, including National President. Sarah is also involved with various committees currently working on the Canadian Methods and Procedures with the (CFIA) Canadian Food Inspection Agency.
Sarah is now an international auditor allowing her to work more closely with international government laboratories and regulatory agencies. Sarah also received and outstanding service  award in 2018 from the Alberta Seed Plant association for her dedication to their industry.
Gina Grandy
Professor and Dean for the Hill and Levene Schools of Business, University of Regina, Saskatchewan
Presentation Title •
Women Entrepreneurs in Ag in Saskatchewan Early Findings: WEKH Report
Profile:
Dr. Gina Grandy is a professor in Strategy & Leadership and began her current role as Dean in July 2018. She formerly held the role of Associate Dean of Research and Graduate Studies and was holder of the RBC Women in Leadership Scholar at the Schools. Gina is the lead for the Women Entrepreneurship Knowledge Hub (WEKH) in Saskatchewan.
Gina's leadership, research, teaching and consulting experiences are international in scope. Gina has taught at seven universities across Canada, the United Kingdom and Ukraine. She is the co-editor of two books and her award-winning research on leadership, gender and women's experiences at work, stigmatized work and case writing has been published widely. She has held research grants from the Social Sciences and Humanities Research Council of Canada and Canadian Institutes of Health Research.
Over the past 20 years, Gina has consulted for a diverse range of not-for-profit, public and for-profit organizations across Canada in leadership development and strategic analysis, planning and implementation. She has led organization-wide strategic planning and strategic reporting initiatives in several settings and has often been a keynote speaker on topics such women in leadership, leading change, entrepreneurship and innovation, coaching and mentorship and strategic planning. Gina serves on academic and community boards for local, national and international organizations.
Lisa Guenther
Editor of Canadian Cattlemen, Rural NW Saskatchewan
Presentation Title • Women in Ag Media (Panel)
Presentation Overview: Three ag media journalists (Lisa Guenther, Editor of Canadian Cattlemen, Laura Rance, Vice President of Content at Glacier FarmMedia, and Karen Briere, Reporter at The Western Producer) share their perspectives on ways the voice of women in agricultural media can be increased and suggestions on how women in agriculture can reach out on media channels to advocate to consumers.
Profile:
Lisa Guenther is a writer and editor living in rural northwestern Saskatchewan. She grew up on a cow-calf operation and today works as the editor of Canadian Cattlemen magazine. She previously wrote for Grainews and Country Guide. She has also written a novel, Friendly Fire, which deals with violence against women in a rural setting. When she's not working or writing, she enjoys horseback riding, cross-country skiing, reading or just going for a walk. Or even Netflix, if we're being honest.
Joan Hardy
Vice-President, Sales and Marketing, Grain and Fertilizers, CP, Winnipeg, Manitoba
Presentation Title • Diversity & Inclusion: Delivering Business Results
Presentation Overview: Canadian Pacific Railway places a high value on diversity. At CP, it is well understood that people with different backgrounds and experiences bring new ideas and innovation, ultimately delivering stronger business results. CP is nurturing a diverse workforce and a culture that supports inclusion and equity, where employees have equal opportunities to succeed and advance. Joan will share some insights into CP's diversity and inclusion initiatives and practices.
Profile:
Joan is responsible for the commercial customer relationships and product marketing related to CP's bulk business, including grain, fertilizers, potash and coal.
Joan joined CP in 2018 after 12 years at Richardson International, Canada's largest agri-business and a global leader in agriculture and food processing, where she served as Vice-President, Transportation. Prior to joining Richardson International, Joan spent 21 years at Canadian National, where she held various roles, including Operations Superintendent, Assistant Vice-President, Sales and Senior Director in CN's customer service centre.
Joan holds a Bachelor of Science in Mechanical Engineering from the University of Manitoba. She is located in Winnipeg, the home of key grain shippers, where she is well positioned to further CP's goal of sustainable, profitable growth.
Joan just completed a two-year term a chair of the Board of Trustees for United Way Winnipeg, and remains on the Board as past chair. She is also a volunteer and past board member with the Manitoba Chamber Orchestra.
Hilton Ventures, Strathmore, Alberta
Presentation Title • A Farm Team on a Mission
Presentation Overview: Growing a multi-family farm operation with a passion and a purpose. And practising the skills of fine communication.
Profile:
Lynne, a free-range farm kid fresh out of Olds College married Spencer and began farming with Spencer's parents in 1979, east of Strathmore. Our start-up days began with a love for the soil and a real desire to improve soil health and conserve soil moisture. And so the challenges began by modifying equipment and changing traditional farming practices. Lynne, passionate about the farm, was busy raising 4 farm kids and being part of a great community. Hilton Ventures wants "every acre to work" and to leave the land in better condition for the next generation. Hilton Ventures is now a multi-generational family farming operation. Come out for a visit, our gate is always open.
Fiona Lake, Founder, Rural Drone Academy, Hermit Park, Queensland, Australia
Presentation Title • If You Bought a Drone – You Might Be As Surprised As I Was
Presentation Overview: Many women who thought they would find drones difficult discovered they loved flying so much they built a drone business. Why?
Profile:
In the 1980s Fiona Lake started advocating for residents on the largest and most remote cattle stations in the world. Her professional photography career began with film images taken from mustering helicopters and the back of stockhorses – long before digital cameras, smartphones and social media. Being entrepreneurial by nature, she went on to produce unique postcards to inform tourists, run exhibitions to reach the general public, taught herself to write and photograph national magazine stories, self-published books and created Australia's oldest rural advocacy website. Fiona also leads some overseas farm tours.
In 2016 a user-friendly drone was released with a camera good enough for Fiona's aerial photography clients so with trepidation, she launched into the drone industry. After much 'trial and terror' she created the Rural Drone Academy to provide the kind of holistic workshop she wished she could have attended when starting. Fiona is one of few Australian women who are fully licenced drone pilots and the only one regularly running training. She has observed that men and women usually ask different questions and that while drone events are typically attended by only 10% women, globally, her sessions usually attract 50/50 women/men and this leads to livelier, all-encompassing discussions. Fiona is a strong advocate for speaking up and 'being the change you want to see' and says nobody should underestimate their ability to make the world a better place, in whatever way they can. In 2020 Fiona received repeat invitations to present at drone conferences on four continents.
Advisor, Sun Life Financial, Outlook, Saskatchewan
Presentation Title • For Life. For Health. For Family.
Presentation Overview: Treena will tell her story, and how it is never too late (until it is too late) to be prepared for a life changing event. We are going to take the thoughts that have been on your backburner and put them into action. Treena is passionate about ensuring you and your family have financial security through difficult times.
Profile:
I am a mother, daughter, sister, auntie, cousin and friend. I am a widow. I am a Sun Life Financial Advisor in the Outlook (Saskatchewan) and surrounding area. I am the second youngest of nine children and grew up on the family farm west of Strongfield, Saskatchewan. I graduated from the University of Saskatchewan with my Bachelor of Science degree in Nutrition. I married my husband Doug, and together we raised five children at the Lammers family farm west of Macrorie, Saskatchewan. After being a stay-at-home mom for 16 years, I decided to enter the work force and start my career as a Sun Life Financial advisor in 2016. I had my own life changing event in the summer of 2017. I am very passionate about helping people and their loved ones prepare for a life-changing event of their own and have financial security in the times when they need it the most.
Farmer at Martinka Chicks, Content Creator for Prairie Pretty, St. Benedict, Saskatchewan
Presentation Title • Finding Silver Linings
Presentation Overview: Life doesn't always go as planned. It is up to us how we choose to react and move forward.
Profile:
Tiffany Martinka resides in Northeast Saskatchewan with her husband and three beautiful children. Alongside family, they own and operate a grain and broiler chick operation consisting of approximately 2,000 acres of land and 100,000 chicks per flock.
Tiffany received her Bachelor of Science in Agriculture in 2008 and worked for 10 years in the agriculture industry while growing their family, renovating for their dream home, and moving to the family farm. Following the birth of their third child, life as they knew it was turned upside down. Their daughter, Natalie, was born with a severe form of epilepsy and had her first seizure at the age of 6 months. What followed has been a journey of heartache, persistence, finding simple joy, and resilience.
It was clear that Tiffany needed to quit her job in the agriculture industry to care for the needs of her child and focus on the family and the farm. She believes that when one door closes, you find a window to open. This past year she was selected as one of five young farmers across Canada to participate in Chicken Farmers of Canada young farmer program which has presented many unique opportunities to learn and grow as a farmer in Canada's chicken industry. She is also passionate about sharing what we do as farmers and has created a presence on social media sharing the beauty of farm living as @prairiepretty on Instagram. Creating and connecting with a community online has brought joy to some otherwise dark days.
Industry Relations Manager, FCC, Montréal, Quebec
Presentation Title • How to network in a virtual world: tips and best practices
Presentation Overview: The coronavirus pandemic has forced us into a world where face-to-face interactions have been put on hold and networking options have been moved almost entirely online. This new normal has definitely challenged the way we build relationships and stay connected with others. With conferences cancelled and meetings postponed, this does not mean that the opportunity to reach out to current or new connections, has to be put on hold. Now more than ever, it's important to be proactive and find creative and new ways to virtually maintain and grow your existing network. This talk will help you get started with a few best tips and practices and will serve you well even when in-person events return.
Profile:
Darlene McBain is Manager of Industry Relations at FCC. She works closely with partners, associations and stakeholders to help grow the agriculture and food industry across Canada. Darlene was raised on a poultry farm outside of Quebec City. With farming in her heart and her passion for the food industry, Darlene earned a degree in agricultural science at Laval University. After graduation, Darlene began her career in the banking industry as an account manager serving various agriculture sectors in French and English throughout Quebec before joining FCC in a leadership role in 2007.
Darlene has over 20 years of experience working in the agri-food sector. She volunteers in several community organizations, is a member of the Order of Professional Agrologists of Quebec and on the board for the Canadian Centre for Food Integrity. She also sits on the governance committee of the Canadian Agri-food Sustainability Initiative and hosts the FCC Knowledge podcast.
Technical Sales Manager, Quantum Genetix, Airdrie, Alberta
Presentation Title • AGvocating for Women in Agriculture
Presentation Overview: An exploration of Kirsty's career and passion for agriculture, her experience in international markets and how being a woman has given her unique opportunities and perspectives in an industry traditionally dominated by men.
Profile:
Kirsty McCormack is the Technical Sales Manager at Quantum Genetix, and an aspiring cowgirl. After completing a B. Rural Science from UNE, Kirsty started work in the beef processing sector, working with organic and grain-fed businesses to sell and market beef around the globe.
After completing the 2017 Rising Champion Initiative with the Cattle Council of Australia, Kirsty travelled throughout South America and New Zealand to learn more about the beef industry, motivating her to move to Canada. She worked throughout western Canada to learn more about industry practices and is now working for a leading-edge genetics company.
Throughout university and her career, Kirsty has been involved with youth leadership, advocacy and women in agriculture events and organizations and is passionate about contributing and giving back to the agricultural industry.
Meghan Pedros
Relationship Manager, Talent Acquisition Business Banking Programs, TD Bank Group, Toronto, Ontario
Presentation Title • Build Your Brand, Achieve Success!
Presentation Overview: This interactive workshop will take you through a step-by-step process on how to effectively build and leverage your personal brand to achieve success! Whether you are a strong negotiator or looking to build confidence, this workshop will add tips and tricks to your personal development checklist.
Profile:
Meghan Pedros is a career-oriented wife, mother, marathoner, mentor and brand ambassador with a passion for developing others through inspiration, mentorship and integrity. Over her 15 year career with TD, she has held a series of progressive roles in Wealth Management, Retail, Direct Channels and Human Resources, to name a few. In her most recent role, Meghan led the Canadian Banking Management Associate & Graduate Leadership Programs; which focus on developing general management and leadership capabilities across the organization. In her current role as Manager; Talent Acquisition, Meghan leads the diversity sourcing and recruitment strategy for our Business Banking Associate Programs across Canada. With a passion for personal development and growth, Meghan plays an active role in supporting Women in Leadership and Diversity initiatives both internally and externally; advocating TD as a career choice for new grads and a "Place to Be You".
Vice President Content, Glacier FarmMedia, Carman, Manitoba
Presentation Title • Women in Ag Media (Panel)
Presentation Overview: Three ag media journalists (Lisa Guenther, Editor of Canadian Cattlemen, Laura Rance, Vice President of Content at Glacier FarmMedia, and Karen Briere, Reporter at The Western Producer) share their perspectives on ways the voice of women in agricultural media can be increased and suggestions on how women in agriculture can reach out on media channels to advocate to consumers.
Profile:
Laura has been writing about agriculture and rural issues for nearly four decades. She grew up on a Manitoba farm, studied journalism and has spent her career working for weekly and daily press organizations in Western Canada. Her work has been recognized by the International Federation of Agricultural Journalists, North American Agricultural Journalists, and the Canadian Farm Writers Federation. She was awarded the Queen's Jubilee Medal in 2012 for her contribution to agricultural journalism.
Strategist and Founder, Pivot Turn Consulting Ltd., Winnipeg, Manitoba
Presentation Title • The Shawshank Entrepreneur
Presentation Overview: Drawing on lessons learned in becoming an entrepreneur, Erin will explain how your next career move starts with a single scoop of sand.
Profile:
Erin founded Pivot Turn Consulting in 2019. The proof of concept for Pivot Turn began when Erin signaled that she would not be moving from Winnipeg to Calgary for a leadership role at Bayer. With a true passion for the past and future success of the organization, Erin readily agreed to lead, co-lead and consult on a variety of strategic integration projects as the two companies came together.
Pivot Turn is a growing company that is committed to helping organizations navigate change. From startup businesses to large multi-nationals, Pivot Turn works to drive innovation in agriculture and other industries.
Erin has been working in the agriculture industry for over 15 years. She started her career by representing a number of agriculture clients as a lawyer in a Winnipeg law firm and moved into a variety of national commercial roles with Monsanto and Bayer. Her roles were diverse, giving her exposure to many different crops and management practices and a wide range of stakeholders.
Erin tells stories in a way that draws you in and makes you a believer. One of her strengths is her ability to take complex information and share a clear and concise message. She aims to balance her own career achievements while mentoring others and volunteering for a variety of non-profit organizations.
Her ultimate goal is to show her 6-year-old son she can build a business and play a mean game of floor hockey at the same time.
Jane Schuette
Motivational Speaker, Executive Coach, and Self-Improvement Author, Jane Schuette and Associates, Inc., Watertown, Minnesota
Presentation Title • Building A Bridge Over Troubled Waters – Understanding and Managing Stress
Presentation Overview: The demands of our daily environment, the people we work with and the projects we manage, often produce stress. This session will help you better understand the impact of stress and establish a plan to manage it.
Profile:
Jane Schuette is a self-improvement author, executive coach, team facilitator, and motivational speaker. She holds a Master of Arts Degree in Education and has been awarded the honor of DTM – Distinguished Toastmaster. Her trademark is to break down complex information and models into practical application for fast, yet lasting results. Throughout a lifetime of research, she has collected the most effective practices and chosen tools designed to educate, energize, and inspire you to manage stress and improve relationships at work and home. Her audience is diverse – from U.S. Armed Forces to women inmates to global corporation employees to educators. Jane's message is easy to digest and implement, helping to build brilliance in any life!
Jane's book, Building Your Brilliance – Moving from Stressful Survival to Joyful Living, features a toolkit to help you increase self-awareness, claim your strengths, communicate to build trust, and uncover your brilliance! Building Your Brilliance is written for the everyday busy and stressed person who is having trouble finding time to do it all – much less take care of his/her well-being. Building Your Brilliance – organizes tools of self-care into typical rooms found in a house, outlines a personal evaluation method to quickly assess your over-all health – spiritual, mental, physical, relational, recommends exercises that will get you moving forward and feeling rejuvenated and healthy, and empowers you to live a life of love, happiness, and peace.
Jane Schuette lives in rural Minnesota with her husband and is delighted to have her children and grandchildren nearby for plenty of play time in the exhilarating Minnesota seasons. Her favorite stress-buster is water! Whether it is synchronized swimming, water-skiing, swimming laps or playing in the frozen water – AKA snow – Jane is at home. After almost 40 years of marriage and waterskiing on their wedding day, Jane and her husband still enjoy nothing better than a "pull" on one of Minnesota's 10,000 lakes.
Lauren Sergy
Communication and Public Speaking Expert, Up Front Communication, Edmonton, Alberta
Presentation Title •
Secrets of Persuasion
Presentation Overview: Persuasiveness carries a lot of baggage: we all want to be able to persuade others, but many of us find it hard to pin down what persuasiveness actuall is, while others are worried that they'll need to use tactics that feel slimy or aggressive. Get ready to bust through those myths and dial up your own persuasiveness by discovering the secrets and strategies for influencing and changing minds through connection, collaboration and authentic relationships.
Profile:
Public speaking and communication expert Lauren Sergy has helped thousands of people become more effective leaders by developing critical communication skills such as persuasion, presentation, and executive presence. Known for her highly practical and inter-disciplinary approach, Lauren tackles tough speaking and communication issues with refreshing humor and candor. She has worked with a variety of clients and audiences in Canada, the US, and Europe including KPMG, T-Mobile, Grant Thornton, the Government of Alberta, the University of Alberta, Dairy Farmers of Canada, and many more.
Lauren is a proud member of the Canadian Association of Professional Speakers. She holds a Master's degree in Library and Information Studies and a Bachelor of Arts degree in English and Classics, and teaches business communication at Concordia University of Edmonton and the University of Alberta.
Her book, The Handy Communication Answer Book, was featured on Library Journal's Best Reference Books of 2017 list.
Suzanne F. Stevens
Conscious-Contributions™ Cultivator: International Speaker, Author, and Social Entrepreneur, YouMeWe Social Impact Group Inc., Collingwood, Ontario
Presentation Title • Make Your Contribution Count: Maximize Your Meaning by Creating a Social Impact
Presentation Overview: Suzanne takes you on a journey to contemplate how you can contribute individually and collectively to society, to optimize your impact and live your most meaningful life. Suzanne shares an Impact Framework developed by interviewing women changemakers from 21 countries. You will hear strategies of women in agriculture and food processing and how they harness their mission to lead the change they want to see at home or abroad.
Profile:
Suzanne F. Stevens is the founder of YouMeWe Social Impact Group. She brings 20 years of professional speaking, entrepreneurial and leadership experience to every talk. She dynamically delivers thought-provoking and inspiring strategies of how people and organizations re-imagined their situation and amplify their social impact through innovation, commerce and collaboration. Suzanne inspires audiences to ask: "How do I make my contribution count for me, my organization and my community?"
Suzanne knows something about pivoting to make your contribution count. After 15 years of leading an international training company, Suzanne and her husband did something bold: they sold all of their worldly belongings and set off for two years backpacking through 19 African countries interviewing women pioneers. To date, they have garnered conscious-contribution™ strategies from leaders in 25 countries, all housed on WisdomExchangeTv.com.
Suzanne has spoken on five continents, is a Certified Speaking Professional, past National President of the Canadian National Speakers Association, a multi volunteer, philanthropy, and service award recipient (most recently received the Governor-General Sovereign's Medal for Volunteers — the highest Canadian honour for volunteerism). Although honoured, she is most proud to call herself a social entrepreneur who founded YouMeWe Social Impact Group Inc: YouMeWe.ca, WisdomExchangeTv.com, YouMeWeFoundation.org, and the YouMeWe Movement. Suzanne is the author of the book Make your contribution count for you, me, we — inspired by pioneering women and launched International Women's Day 2020. Suzanne ignites a culture where your contribution counts … for you, your company, your community.
Devin St. Louis
Vice President and Portfolio Manager, RBC Dominion Securities, Calgary, Alberta
Presentation Title • Wealthy, Healthy and Wise
Presentation Overview: The investment world can be confusing at the best of times. This presentation will speak to the unique financial priorities of women and their thoughtfulness around money. We will spend time learning about investment fundamentals and how women play a critical role in managing their own finances, their family finances and transferring wealth to the next generation. Finally, we will conclude with best practices that you can use to equip yourself to help navigate the current and future investment landscape.
Profile:
Devin began his career with RBC Royal Bank in Kelowna, British Columbia, in 2003. He advanced his career east to Calgary and joined RBC Dominion Securities in 2007. Today, he is a Vice President and Portfolio Manager with a focus on Wealth Management and Financial Planning. A firm believer in continuing education, Devin earned his Bachelor of Business Administration degree in finance in 2004. He went on to achieve his Certified Financial Planner (CFP) designation in 2006 and his Canadian Investment Manager (CIM) and Financial Management Advisor (FMA) designations. In 2011, Devin achieved the recognition of Fellow of the Canadian Securities Institute (FCSI). Over his career, Devin has felt truly honored to have worked alongside some of the best wealth management professionals in Canada. His tenure within RBC has resulted in the establishment of a strong network of experienced professionals within the organization and the community. When he is not working, Devin is pursuing his desire to travel the world and further his knowledge and appreciation for wine and the culinary arts.
Alison Sunstrum
Founder/CEO, CNSRV-X Inc. (Conserve X), Cochrane, Alberta
Presentation Title • Investing in the Future of Agriculture
Presentation Overview: After successfully growing and divesting a global Animal Agriculture company founded in an Alberta garage, Alison is actively involved in championing the growth of the Canadian Digital and AgTech Ecosystem. A Founding Partner and Fellow of the Creative Destruction Lab, a Venture Partner at Builders VC (San Francisco/Calgary) and a community member of The51 (a female founded venture capital company at the forefront of changing the way female companies are funded and supported), Alison will speak about Canadian agriculture after the pandemic and investing in the next generation of startups.
Profile:
Alison Sunstrum is Founder/CEO of CNSRV-X (Conserve X) a Canadian company researching and applying blockchain technology in agriculture.
Formerly alongside fellow CEO/Founder of GrowSafe Systems Ltd. Camiel Huisma they developed an advanced data analytics machine learning platform that acquired data from individual animals and their environment. They grew their tech skunkworks from an Alberta garage to global operations; leading a team of engineers, computer and animal specialists that received International recognition for science-based innovation. Prior to this she led the development of one of Canada's first electronic data interchange projects with a Canadian railroad. A recipient of the Beef Improvement Federation's distinguished service award Alison is a former member of Canada's National Agri-Food Economic Strategy Table. Recently, she joined the Creative Destruction Lab (CDL) – Rockies'  Ag stream as a Fellow and Founding Partner.
A passionate advocate for advancing women in STEAM and Agriculture, Alison holds patents for innovative technology and has presented widely on Big Data, the Internet of Livestock Things, and commercializing early stage technology ventures. An active angel investor and associate of the Creative Destruction Lab she enjoys mentoring early-stage technology companies in making the best use of their resources and intellectual property in preparation for scale.
Laura Taylor
Dealer Development Manager, John Deere Canada ULC, Grimsby, Ontario
Presentation Title • Building Highly Effective Virtual Teams
Presentation Overview: Virtual teams have become more and more common in today's world. Many companies have recently implemented work from home policies and this presentation will cover the keys to leading, collaborating and communicating across an effective virtual team.
Profile:
As a Dealer Development Manager for John Deere Canada ULC, Laura Taylor is responsible for working with stakeholders on optimization improvement opportunities for channel capabilities, processes and structures. She is also responsible for formalizing John Deere's relationship with the channel through dealer agreements, monitoring performance and channel health, and facilitating dealer change.
Laura's career history includes sales management and marketing roles in the industries of seed, chemical and precision agriculture. These roles have led her to spend time living in Ontario, Manitoba, and Saskatchewan. Laura graduated in 2012 from Wilfrid Laurier University with a Bachelor's Degree in Business Administration. She then graduated from Queen's University with a Masters of Business Administration.
Trish Tetz
Agriculture Manager, BMO Bank of Montreal, Tetz Cattle Co. and The Craft Beef Company Ltd., Three Hills, Alberta
Presentation Title • Tips to Help Advance Yourself into Industry Board Positions
Presentation Overview: Easy to follow tips to help women advance as leaders in their sectors through various board positions. We'll talk about the role of women on Boards and provide some helpful insights to get ladies started moving in the right direction.
&
Presentation Title • Starting A Beef Business Through COVID-19
Presentation Overview: Lessons learned through the challenges and opportunities created by COVID-19. Overcoming the challenges of starting and marketing an agricultural e-commerce business in unprecedented times.
Profile:
Trish is the Agriculture Manager for the Alberta Agriculture team at BMO Bank of Montreal. She frequently works with farms from all across the Prairies, assisting in new farm purchases, financial restructures and farm succession. Trish received her Agriculture Technology Diploma from the University of the Fraser Valley and continues to pursue a designation in agrology.
Along with her husband, Trish also recently started a business of her own called The Craft Beef Company Ltd. connecting consumers to locally sourced meat products. Trish has a passion for agriculture and enjoys both the production and business sides of the industry.
As a woman in agriculture, Trish believes it's important to participate in the industry and to be a mentor to other women. She takes an active role on industry boards, including the Alberta Riparian Habitat Management Society ("Cows and Fish") as Secretary/Treasurer and is a past Director of the Red Deer YouthHQ Board. She also took part as a "Big Sister" and serves actively on the Dairy Show Committee for Westerner Park in Red Deer as well as several other committees in the past.
John Uhren
Head of Sustainable Finance, Products and Strategy, BMO Bank of Montreal, Toronto, Ontario
Presentation Title • Products and Solutions for a Sustainable Future
Presentation Overview: BMO is committed to Boldly Growing the Good in Business and Life, which includes supporting our agricultural clients in innovative ways. As the lead of BMO's Sustainable Agriculture working group, John will discuss how BMO can offer unique products and solutions to help position your business for future success.
Profile:
John Uhren is Head, Sustainable Finance, Products and Strategy, at BMO. He leads product development and strategic initiatives across the enterprise, including raising capital and providing sustainable finance opportunities to clients. Prior to joining the Sustainable Finance team, John was Senior Counsel and Director in Capital Markets Legal at BMO. In this role he led Invest for Infinity, an enterprise-wide team supporting the development of ESG-themed investment products. John was also co-head of BMO's Pro Bono Committee, and in 2017 won Lexpert's Rising Star Award as a top Canadian lawyer under 40. John founded Feet Forward Organization in 2013, a Canadian registered charity that partners with NGO agencies in South Africa to assist refugees, asylum-seekers and newly landed immigrants. He is currently a board member of Dress for Success Toronto.
Jocelyn Velestuk
Farmer, Professional Agronomy Consultant, Western Ag Professional Agronomy, Velestuk Farms, Broadview, Saskatchewan
Presentation Title • Learning to Adapt
Presentation Overview: When my husband and I decided to overhaul our life and jump into farming with his parents, I wanted to do my part in helping to create a successful farm so I decided to create the life I wanted and became an entrepreneur. I will be sharing my story of managing stress when you have it all and growing as a person.
Kristie Walker
Owner, Synergy Seeds, Souris, Manitoba
Presentation Title • Field of Dreams
Presentation Overview: Following the well-known saying "If you build it, they will come", Kristie's passion for agriculture spurred her to create Synergy Seeds. Her story demonstrates the power of focus, listening to new ideas and not letting fear hinder your journey.
Profile:
Growing up in Melville, Saskatchewan, Kristie always had a love for the time spent on her grandpa's farm. She completed college with Environmental Science in 2005 and has since held various roles in the agriculture industry. Working at a grain elevator with a great group of people started a drive to advance in the Ag industry. She went on to be assistant manager at a full-service agriculture retail in Manitoba before managing a territory in South Saskatchewan for a large seed company. She furthered her agronomy knowledge by taking additional courses through universities in Saskatchewan and Manitoba, and obtained a Technical Agrologist designation.
Kristie moved to Manitoba after marrying and opened Synergy Seeds with a local business partner/friend in Souris, Manitoba. The duo began Synergy Seeds in the fall of 2017, and with a compressed timeline, they built, launched and opened their business by the spring of 2018. She is now running this successful seed business with a bulk storage facility where they treat soybeans, sell corn, canola, forages, and Legend bins just a mile out of the rural community.
Kristie has always had the mindset that with determination great things can happen and believes in the importance of listening to new ideas and not letting past experiences or fears hinder your journey. She attributes much of her individual success to being proud of your work and believing in the people you work for and work with.
Sheryl Wallace
President – North America Grain, Cargill, Wayzata, Minnesota
Presentation Title • D.A.R.E. to Reach Your Full Potential
Presentation Overview: Reaching your full potential or leading teams to sustained high performance enables stronger engagement, meaningful impact, and ultimately greater success. Sheryl will share a couple of practical ways to approach development and navigate your career.
Profile:
Sheryl was appointed President of Cargill's North America Grain business in July 2019. She has commercial responsibility for 110 facilities, trading and merchandising, and the barge business. From 2016-2019, Sheryl led the Risk Management Group (RMG), where she transformed the corporate risk function's fiduciary oversight and enabled competitive advantage within Cargill's market risk, counterparty, and trade credit activities. She also served on the Commodity Risk Committee, the Financial Risk Committee and the Cargill Finance Leadership Team.
Prior to leading RMG, Sheryl was an instrumental leader to the growth of Cargill Risk Management (CRM), the customer facing solutions business that operated in 60 countries and offered products in over 100 markets. Sheryl led two global businesses: Ag Hedging and Energy Solutions. She was based in Geneva, Switzerland for three years while working in this business. Early in her career, Sheryl held various trading, merchandising, and commercial positions in Cargill's Grain and Oilseed Processing, Global Edible Oils, and Flour Milling businesses. Sheryl started with Cargill in 1996 as a Commodity Merchant in Iowa Falls, Iowa and progressed to Central Region Merchandising Manager with assignments in Cedar Rapids, IA and Minneapolis, MN.
Sheryl holds positions on several boards and associations. She has an M.B.A. Essentials and B.S. in Business, Carlson School of Management, University of Minnesota. Sheryl is married and has four children ranging from 13 to 27. In her free time, she is often at a soccer field, basketball court, or in an auditorium supporting her kids.
Léona Watson
2011 Scholar, Nuffield Canada, Executive Director, Whitehorse, Yukon Territory
Presentation Title • Following Love North of 60
Presentation Overview: The Yukon is a place like no other in Canada and who would have thought that there are farmers North of the 60th parallel? Enjoy a brief tour of this majestic scenery with Léona Watson, a young farmer and Yukon's newest outfitter, as she shares her stories and adventures.
Profile:
Léona is the eldest of five daughters raised on a family farm in Alberta who together learned the values of hard work, perseverance and gratitude. She graduated from Olds College with a Bachelor of Applied Science in Agribusiness and in 2011 was awarded a Canadian Nuffield Scholarship. This enabled her to study succession planning around the world. Together with her husband Mac and daughter Eleanor, Leona lives an adventurous life in the Yukon Territory as a young farmer and outfitter. Farming North of 60 has its unique challenges – and through Léona's eyes – a world of opportunity.
Financial Adviser, Owner, Watty Insurance Services Ltd, The Co-operators, Abbotsford, British Columbia
Presentation Title: Women Don't Sell Farm Insurance
Presentation Overview: Sherry will tell her story of how she broke through the stereotype of farm insurance being a man's world and how rose above the challenges to become a successful insurance advisor.
Profile:
Sherry Watty started her insurance career at the age of 18 in Northern Ontario. She began her career in a brokerage and by the age of 22 was managing the brokerage. She continued to advance her career and complete various training and schooling. In 2006 her family moved to Alberta. She began working for the Co-operators as a Financial Advisor and business owner in Slave Lake Alberta. She implemented a program in her office called the client review system to meet her new clients, understand their insurance needs to make sure they were well covered. In 2011 her office experienced the Slave Lake wildfire. Sherry and her family lost their home. Her number 1 priority was her clients and she took care of their needs first and assisted the claims team in working through the over 1000 insurance claims. Sherry has since obtained her Mutual Funds license and working on her CFP designation. Her office has won several customer service awards and well as Top Producer awards for different lines of business. She currently sits on the FAC board and the Presidents Advisor Council Board for the Co-operators. In 2018 she moved with her family to Abbotsford BC, to take over a Co-operators office. This office was a large farm/commercial agency which she knew would pose some challenges. She has risen to the challenge and once again used her client review program to assess her clients needs. In 2018 and 2019 her agency has won the BC Top Farm Producer. She is a firm believer in customer service satisfaction and her commitment to the clients has been a proven success in her career.
Kevin Werner
Retired Vice President of Commercial and Agriculture Banking, Toronto-Dominion Bank, Calgary, Alberta
Presentation Title • Getting Mental Illness Out of the Closet
Presentation Overview: To help the public better understand what mental illness is and is not. To also help break down the stigma associated with mental illness, recognize the symptoms, provide personal experience on mental illness and what to do about it.
Profile:
Kevin grew up on the family farm 16 km west of Regina near the hamlet of Grand Coulee, where he attended grade school. He completed high school at Luther College in Regina and then obtained his Bachelor of Science in Agriculture with a major in economics at the University of Saskatchewan in Saskatoon.
Upon graduating he worked as an Account Manager for Farm Credit Corporation for three years in various locations in Saskatchewan and then joined the TD Bank as an Ag. Account Manager in Saskatoon. After a couple of years, Kevin was assigned a project in Toronto to develop and deliver an Ag Credit Training Program which he delivered nationally to agriculture and commercial bankers.
Kevin then transitioned into Commercial Banking in Toronto, and worked in various locations such as Lethbridge, Calgary, Red Deer and Winnipeg, progressing through more senior roles; and was appointed Vice President Commercial Banking. He was responsible for Commercial Banking in Winnipeg and Red Deer and then came back to his agricultural roots as Vice President in charge of Agriculture and Agribusiness for Alberta and British Columbia.
During his tenure with TD, Kevin opened up to the bank in 2009 about his mental illness. TD was so very supportive and coincidentally at that time the bank was in the process of setting up a national sub-committee to help address and improve the understanding by all employees about People with Disabilities, both visible and invisible. Kevin was requested to be part of this sub-committee given his experience with mental illness. Kevin and the sub-committee focused on Mental Health. Through Kevin's personal experience with clinical depression and anxiety, he and the committee initiated internal speaking engagements and blogs on his life with this illness, to help employees at all levels better understand mental illness, help break down barriers and the stigma behind mental illness, and be an advocate in this domain.
Kevin retired from TD in January 2019 and is focused on continuing to speak to companies and groups to help educate and continue to destigmatize mental illness.
Kevin's career with TD spanned 33 years. He is married to his wife Cheryl. They enjoy their soft coated wheaten terriers Rocky and Harley, are planning extensive travelling in their retirement and enjoy hiking, skiing and cycling.
Kent Zentner
Vice President, General Manager, Silver Sage Beef Inc., Calgary, Alberta
Presentation Title • Diversification
Presentation Overview: Kent will talk about diversification and sustainability with his family ranch, established in 1910.
Profile:
Growing an entrepreneurial-based family business with a focus on diversification and sustainability in the Agriculture industry. Leading with a strong sense of integrity and management with an ethical farm to plate mentality.