Our great lineup of speakers: Listen, Learn, Network & Grow!
Our speakers are industry leaders, market innovators and those passionate about creating success. We choose the best people from within and outside the ag industry to share their wisdom and knowledge with you.
Imagine the goals you could achieve with a little inspiration, and new and insightful skills from women who've "been there, done that" and are willing to share what they've learned along the way.
Dr. Sylvain Charlebois
Faculty of Management, 
Professor, Faculty of Agriculture, 
Dalhousie University, Canada, 
Senior Director (Interim), Agri-food Analytics Lab
Profile:
Dr. Sylvain Charlebois is a Professor in food distribution and policy in the Faculties of Management and Agriculture at Dalhousie University in Halifax. He is also the Senior Director of the Agri-food Analytics Lab, also located at Dalhousie University. He is as well the former Dean of the Faculty of Management at Dalhousie University. Before joining Dalhousie, he was affiliated with the University of Guelph's Arrell Food Institute, which he co-founded. While at the University of Guelph, he was also the Associate Dean of Research for the College of Business and Economics.
Known as "The Food Professor", his current research interest lies in the broad area of food distribution, security and safety. He is one of the world's most cited scholars in food supply chain management, food value chains and traceability.
He has authored five books on global food systems, his most recent one published in 2017 by Wiley-Blackwell entitled "Food Safety, Risk Intelligence and Benchmarking". He has also published over 500 peer-reviewed journal articles in several academic publications. Furthermore, his research has been featured in several newspapers and media groups, including The Economist, the New York Times, the Boston Globe, the Wall Street Journal, Washington Post, BBC, NBC, ABC, Fox News, Foreign Affairs, the Globe & Mail, the National Post and the Toronto Star.
Dr. Charlebois sits on a few company boards, and supports many organizations as a special advisor, including some publicly traded companies. He also has done some work on social licensing, which include public trust assessments and risk communication evaluations. Charlebois is also a member of the Scientific Council of the Business Scientific Institute, based in Luxemburg. He conducts policy analysis, evaluation, and demonstration projects for government agencies and major foundations focusing on agricultural policies and community development both in Canada and in development settings. Dr. Charlebois is a member of the Global Food Traceability Centre's Advisory Board based in Washington DC, and a member of the National Scientific Committee of the Canadian Food Inspection Agency (CFIA) in Ottawa. He has testified on several occasions before parliamentary committees on food policy-related issues as an expert witness. He has been asked to act as an advisor on food and agricultural policies in many Canadian provinces, in the United States, Brazil, Austria, Italy, France, Belgium, China, Great Britain, Finland and the Netherlands.
Cindy Benning
Group Director, Industrial & Quality Operations, Vetoquinol S.A., Frankford,  Ontario
Presentation Title • My career path: A Journey of Self-Discovery
Presentation overview: Cindy will discuss how she went from being an introverted science nerd, only focussing on what is black and white, to a person who believes strongly in transformational leadership and the importance of self-discovery.  This change may seem like an obvious progression of a normal career path but Cindy's story is much more complex.
Profile:
Cindy Benning grew up in rural Ontario with her parents and 3 sisters, and has always had a natural aptitude for math and science.  She started her career in 1984 working as a lab technician in a small human pharma company and since 1993 has progressively increased her level of responsibility in various roles within the Animal Health Industry. In 2018 she became the first North American, female member of the French Animal Health Company, Vetoquinol's Executive team, with her appointment as Group Director of global manufacturing and quality operations.  Through dedication to lifelong learning, Cindy has been able to obtain a Bachelor's degree in Science, an Executive MBA, as well as post-grad certification in Executive Coaching, all while being employed full-time.   The progression of her career from one based on hard skills to one that relies strongly on soft skills, is an example of her lifelong vision – to be a positive influence on as many people as possible.  Cindy believes strongly in the power of self reflection, and her mission is to be a living example of what being true to your authentic self means, always striving to align her actions with her values.  She plans to develop her personal company, Dragonfly Insights in the coming years, as a transition from the busy transcontinental global role she has now, to one where she can devote her time fully, to the development of others.
Michelle Cederberg
Health and Productivity Expert, Professional Coach, Calgary, Alberta
Presentation Title • The Success-Energy Equation
Session overview: In an age of disengagement, distraction and fatigue, it seems how we work isn't working. We're busy, stretched and stressed, and in the fight to get it all done, we lose sight of what's truly important to us in work and life. In this thought-provoking session, Health and Productivity Expert Michelle Cederberg shares an equation for success that will make you think, laugh and take action on your dreams. Michelle will guide us through how to tap into a well of energy that will fuel every area of your life and how to slow down and learn to listen to your body to gain clarity, work better and reach your goals sooner.
Profile:
For over 15 years, Certified Speaking Professional Michelle Cederberg has captivated audiences across North America with her empowering and humorous messages about how to set worthwhile goals, get energized for success and live a bigger life.
An in-demand speaker, author, coach and consultant, she believes that personal and professional success is directly influenced by how well we harness the physical, mental and emotional capacity we each have within us. She helps people boost that capacity, so they gain clarity, build confidence and get the discipline to create the life and career they want.
She holds a Masters in Kinesiology, a BA in Psychology, a specialization in Health and Exercise Psychology, is a Certified Exercise Physiologist, a Certified Professional Co-Active Life Coach, and an ORSC-Trained Team Coach. She truly combines mind, body and practicality to empower change.
Michelle is the author of three books. Her newest book, The Success-Energy Equation, will be released in fall of 2020.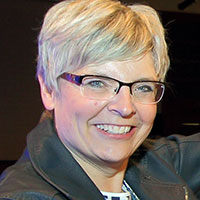 Dianne Finstad
Communications Specialist, Red Deer, Alberta
Master of Ceremonies
Profile:
Dianne Finstad is a communications specialist with a passion for all things agriculture. She spent over thirty years as a broadcaster and reporter, specializing in agriculture and rodeo coverage. Raised on a ranch in southern Alberta, she was able to combine her 4-H inspired interests in communication and ag into an interesting career, which now takes her to exciting places like Advancing Women in Agriculture conferences. Based in Red Deer, she began her career at CKRD-TV and radio. Her program 'This Business of Farming' was a staple in many rural households around the province. She also worked at KG Country Radio, providing daily farm reports and regular rodeo coverage. As well, Dianne has MC'd at events ranging from Farm Credit Canada Forums to national dairy shows. She works as both a show announcer and rodeo reporter at the Calgary Stampede. Her work has received numerous awards, and she is an honorary member of the Alberta Institute of Agrologists and the Alberta Human Ecology and Home Economics Association. Dianne is currently doing agriculture, rodeo, writing and speaking work across the country.
Sarah Foster
President, Senior Seed Analyst, 20.20 Seed Lab Inc., Nisku, Alberta
Presentation Title • Never in my wildest dreams did I ever expect this!
Presentation Overview: My journey and experiences as a seed analyst over the past 40 years. Navigating through changes and overcoming challenges as a woman in business.
Profile:
Sarah has been involved in the seed industry and agriculture since the late 1970's. She studied at the National Institute of Agricultural Botany in Cambridge, England focusing on seed testing and agricultural botany.  Her work experience includes seven years with Sharps Seed International in the United Kingdom, later to become owned by Advanta, Canada. Then later immigrating to Canada in 1984 she was employed for five years with The United Grain Growers in Edmonton Alberta.
Sarah started 20/20 Seed Labs Inc. in 1989 as the first fully independent and completely accredited seed testing laboratory in Canada.  In 2007, 20/20 Seed labs Inc. was initiated and registered as  the first private laboratory in Canada to become a recognised IISTA accredited laboratory.
20/20 Seed Labs Inc has grown over the years to provide testing services in Nisku Alberta, St Norbert Manitoba and Chillan Chile. 20/20 Seed Labs Inc. offers a wide variety of services including seed quality, seed health and plant diagnostics and analysis on a wide range of crop kinds. 20/20 Seed Labs Inc. also offers molecular testing, seed grading, sampling services and crop inspection services in Canada and in Chile.
20/20 Seed Labs Inc. recently celebrated 30 years in the industry and is proud to be included as an award winner in the Business Edmonton and Business Calgary magazine. Sarah was also chosen as an award business leader in the both magazines for agriculture.
We are honoured to be service providers for individual growers, seed cleaning facilities, crop protection companies and multinational seed companies.
Sarah works extensively with government, farmers and industry within agriculture and is one of the most experienced seed analysts in North America, having completed accreditation for the United Kingdom, United States and Canada. She is regularly invited to train and teach as well as offering grading courses to the Authorized establishment personnel; recently Sarah was invited and is now an advisor on the Board of Directors of the Alberta Seed Growers association.
Sarah was the recipient of the Canadian Seed Trade Association 2013 Seed Achievement award and has held various executive positions with the Commercial Seed Analysts Association of Canada, including National President. Sarah is also involved with various committees currently working on the Canadian Methods and Procedures with the (CFIA) Canadian Food Inspection Agency.
Sarah is now an international auditor allowing her to work more closely with international government laboratories and regulatory agencies. Sarah also received and outstanding service  award in 2018 from the Alberta Seed Plant association for her dedication to their industry.
Gina Grandy, B.Comm (co-op), MBA, PhD
Professor and Dean for the Hill and Levene Schools of Business, University of Regina, Saskatchewan
Presentation Title •
Women Entrepreneurs in Ag in Saskatchewan Early Findings: WEKH Report
Profile:
Dr. Gina Grandy is a professor in Strategy & Leadership and began her current role as Dean in July 2018. She formerly held the role of Associate Dean of Research and Graduate Studies and was holder of the RBC Women in Leadership Scholar at the Schools. Gina is the lead for the Women Entrepreneurship Knowledge Hub (WEKH) in Saskatchewan.
Gina's leadership, research, teaching and consulting experiences are international in scope. Gina has taught at seven universities across Canada, the United Kingdom and Ukraine. She is the co-editor of two books and her award-winning research on leadership, gender and women's experiences at work, stigmatized work and case writing has been published widely. She has held research grants from the Social Sciences and Humanities Research Council of Canada and Canadian Institutes of Health Research.
Over the past 20 years, Gina has consulted for a diverse range of not-for-profit, public and for-profit organizations across Canada in leadership development and strategic analysis, planning and implementation. She has led organization-wide strategic planning and strategic reporting initiatives in several settings and has often been a keynote speaker on topics such women in leadership, leading change, entrepreneurship and innovation, coaching and mentorship and strategic planning. Gina serves on academic and community boards for local, national and international organizations.
Meghan Pedros
Relationship Manager, Talent Acquisition Business Banking Programs, TD Bank Group, Toronto, Ontario
Workshop Presenter
Presentation Title • Build Your Brand, Achieve Success!
Workshop Overview: This interactive workshop will take you through a step-by-step process on how to effectively build and leverage your personal brand to achieve success! Whether you are a strong negotiator or looking to build confidence, this workshop will add tips and tricks to your personal development checklist.
Profile:
Meghan Pedros is a career-oriented wife, mother, marathoner, mentor and brand ambassador with a passion for developing others through inspiration, mentorship and integrity. Over her 15 year career with TD, she has held a series of progressive roles in Wealth Management, Retail, Direct Channels and Human Resources, to name a few. In her most recent role, Meghan led the Canadian Banking Management Associate & Graduate Leadership Programs; which focus on developing general management and leadership capabilities across the organization. In her current role as Manager; Talent Acquisition, Meghan leads the diversity sourcing and recruitment strategy for our Business Banking Associate Programs across Canada. With a passion for personal development and growth, Meghan plays an active role in supporting Women in Leadership and Diversity initiatives both internally and externally; advocating TD as a career choice for new grads and a "Place to Be You".
Jane Schuette
Motivational Speaker, Executive Coach, and Self-Improvement Author", Jane Schuette and Associates, Inc., Watertown, Minnesota
Plenary Speaker
Presentation Title • Building A Bridge Over Troubled Waters – Understanding and Managing Workplace Stress
Presentation overview: The demands of our daily environment, the people we interact with and the projects we manage, often produce stress. That stress gets in the way of collaboration and innovation which most often determines success of goal completion. This session will help us better understand the impact of stress and recognize what happens when we get emotionally triggered. We will explore how negative triggers are usually provoked by unmet human basic needs and establish a plan to deal with and minimize the derailing that can get us off our productivity track. We will pinpoint suggestions on how to create an environment that meets those needs and minimizes stress and negative trigger reactions. These techniques set the stage for an environment that corrals everyone's brain power for productive collaboration and innovation to achieve our goals!
Profile:
Jane Schuette is a self-improvement author, executive coach, team facilitator, and motivational speaker. She holds a Master of Arts Degree in Education and has been awarded the honor of DTM – Distinguished Toastmaster. Her trademark is to break down complex information and models into practical application for fast, yet lasting results. Throughout a lifetime of research, she has collected the most effective practices and chosen tools designed to educate, energize, and inspire you to manage stress and improve relationships at work and home. Her audience is diverse – from U.S. Armed Forces to women inmates to global corporation employees to educators. Jane's message is easy to digest and implement, helping to build brilliance in any life!
Jane's book, Building Your Brilliance – Moving from Stressful Survival to Joyful Living, features a toolkit to help you increase self-awareness, claim your strengths, communicate to build trust, and uncover your brilliance! Building Your Brilliance is written for the everyday busy and stressed person who is having trouble finding time to do it all – much less take care of his/her well-being. Building Your Brilliance – organizes tools of self-care into typical rooms found in a house, outlines a personal evaluation method to quickly assess your over-all health – spiritual, mental, physical, relational, recommends exercises that will get you moving forward and feeling rejuvenated and healthy, and empowers you to live a life of love, happiness, and peace.
Jane Schuette lives in rural Minnesota with her husband and is delighted to have her children and grandchildren nearby for plenty of play time in the exhilarating Minnesota seasons. Her favorite stress-buster is water! Whether it is synchronized swimming, water-skiing, swimming laps or playing in the frozen water – AKA snow – Jane is at home. After almost 40 years of marriage and waterskiing on their wedding day, Jane and her husband still enjoy nothing better than a "pull" on one of Minnesota's 10,000 lakes.
Lauren Sergy
Communication and Public Speaking Expert, Up Front Communication, Edmonton, Alberta
Presentation Title •
Secrets of Persuasion
Presentation overview: Persuasiveness carries a lot of baggage: we all want to be able to persuade others, but many of us find it hard to pin down what persuasiveness actuall is, while others are worried that they'll need to use tactics that feel slimy or aggressive. Get ready to bust through those myths and dial up your own persuasiveness by discovering the secrets and strategies for influencing and changing minds through connection, collaboration and authentic relationships.
Profile:

Public speaking and communication expert Lauren Sergy has helped thousands of people become more effective leaders by developing critical communication skills such as persuasion, presentation, and executive presence. Known for her highly practical and inter-disciplinary approach, Lauren tackles tough speaking and communication issues with refreshing humor and candor. She has worked with a variety of clients and audiences in Canada, the US, and Europe including KPMG, T-Mobile, Grant Thornton, the Government of Alberta, the University of Alberta, Dairy Farmers of Canada, and many more.
Lauren is a proud member of the Canadian Association of Professional Speakers. She holds a Master's degree in Library and Information Studies and a Bachelor of Arts degree in English and Classics, and teaches business communication at Concordia University of Edmonton and the University of Alberta.
Her book, The Handy Communication Answer Book, was featured on Library Journal's Best Reference Books of 2017 list.
Devin St. Louis
Vice President and Portfolio Manager, RBC Dominion Securities, Calgary, Alberta
Workshop Presentation Title • When is it time to start focusing on your financial future?
Workshop Presentation Overview: The investment world can be confusing at the best of times. This presentation will speak to the unique financial priorities of women and their thoughtfulness around money. We will spend time learning about investment fundamentals and how women play a critical role in managing their own finances, their family finances and transferring wealth to the next generation. Finally, we will conclude with best practices that you can use to equip yourself to help navigate the current and future investment landscape.
Profile:
Devin began his career with RBC Royal Bank in Kelowna, British Columbia, in 2003. He advanced his career east to Calgary and joined RBC Dominion Securities in 2007. Today, he is a Vice President and Portfolio Manager with a focus on Wealth Management and Financial Planning. A firm believer in continuing education, Devin earned his Bachelor of Business Administration degree in finance in 2004. He went on to achieve his Certified Financial Planner (CFP) designation in 2006 and his Canadian Investment Manager (CIM) and Financial Management Advisor (FMA) designations. In 2011, Devin achieved the recognition of Fellow of the Canadian Securities Institute (FCSI). Over his career, Devin has felt truly honored to have worked alongside some of the best wealth management professionals in Canada. His tenure within RBC has resulted in the establishment of a strong network of experienced professionals within the organization and the community. When he is not working, Devin is pursuing his desire to travel the world and further his knowledge and appreciation for wine and the culinary arts.
Kevin Werner
Retired Vice President of Commercial and Agriculture Banking, Toronto-Dominion Bank, Calgary, Alberta
Plenary Speaker
Presentation Title • Getting Mental Illness Out of the Closet
Presentation Overview: To help the public better understand what mental illness is and is not. To also help break down the stigma associated with mental illness, recognize the symptoms, provide personal experience on mental illness and what to do about it.
Profile:
Kevin grew up on the family farm 16 km west of Regina near the hamlet of Grand Coulee, where he attended grade school. He completed high school at Luther College in Regina and then obtained his Bachelor of Science in Agriculture with a major in economics at the University of Saskatchewan in Saskatoon.
Upon graduating he worked as an Account Manager for Farm Credit Corporation for three years in various locations in Saskatchewan and then joined the TD Bank as an Ag. Account Manager in Saskatoon. After a couple of years, Kevin was assigned a project in Toronto to develop and deliver an Ag Credit Training Program which he delivered nationally to agriculture and commercial bankers.
Kevin then transitioned into Commercial Banking in Toronto, and worked in various locations such as Lethbridge, Calgary, Red Deer and Winnipeg, progressing through more senior roles; and was appointed Vice President Commercial Banking. He was responsible for Commercial Banking in Winnipeg and Red Deer and then came back to his agricultural roots as Vice President in charge of Agriculture and Agribusiness for Alberta and British Columbia.
During his tenure with TD, Kevin opened up to the bank in 2009 about his mental illness. TD was so very supportive and coincidentally at that time the bank was in the process of setting up a national sub-committee to help address and improve the understanding by all employees about People with Disabilities, both visible and invisible. Kevin was requested to be part of this sub-committee given his experience with mental illness. Kevin and the sub-committee focused on Mental Health. Through Kevin's personal experience with clinical depression and anxiety, he and the committee initiated internal speaking engagements and blogs on his life with this illness, to help employees at all levels better understand mental illness, help break down barriers and the stigma behind mental illness, and be an advocate in this domain.
Kevin retired from TD in January 2019 and is focused on continuing to speak to companies and groups to help educate and continue to destigmatize mental illness.
Kevin's career with TD spanned 33 years. He is married to his wife Cheryl. They enjoy their soft coated wheaten terriers Rocky and Harley, are planning extensive travelling in their retirement and enjoy hiking, skiing and cycling.